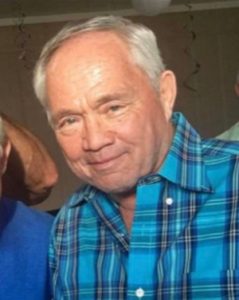 On Friday, May 27th, 2022, John Michael "Mike" McGuire embarked on his final road trip his way.  He lived his life by his mantra – "My way or the highway" all the way to the end.
Mike was born in Gulfport, Mississippi on February 5th, 1951, to John Samuel McGuire and Ophelia Elizabeth "Boots" Eley.
He resided on the MS Gulf Coast until 1976 when he moved to Buras, LA.  Mike worked for P&S Oil for many years and owned his own trucking company – McGuire Trucking until 1988. He moved to Houston Texas where he became an electrician and superintendent for Berger Electric until 2010.  Along with his wife Cindy they owned and operated My Way Services, the Icehouse on Brittmore and the My Way Too RV Park in Hempstead, Texas until he retired in 2016.  Upon his retirement, Mike and Cindy moved to Southern Shores in the Outer Banks of North Carolina.
Mike is preceded in death by his beloved grandfather, John Richard Eley; his parents, John Samuel McGuire, Ophelia Elizabeth "Boots" Eley; his precious angel grandson, Riley Joseph Breneman; and his beloved dog JJ.
He was a very proud PawPaw to 15 – Hilaree Orgeron, Kerry Brent (Tessa) Senseney Jr, Hannah Senseney, Ryann (Tristan) Broussard, Bailey Cardoza, Austin Green, Rhett Breneman, Cody Green, Ava Caprari, Caige Smith, Mac Caprari, Pember Smith, Rainey Brooke Gordon, Cohen Caprari and Elvis Potter.  And Grand PawPaw to two, "His Boy" Seeley Thomas McGuire Kurtz, and "His Girl" Elliott Joseph Broussard.
A memorial service will be held in the Fall, with information to be posted at a later date.  Please visit  www.gallopfuneralservices.com to contribute and share condolences with the family. Gallop Funeral Services, Inc. was entrusted with arrangements.