MANTEO –On August 1, 1955, Billy and Edith Costner welcomed their second daughter, Joyce Ann, into the world. Her sister Debby was excited to have a little sister and they quickly became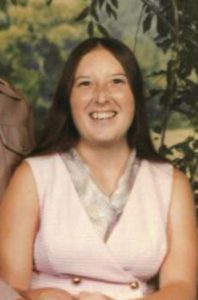 inseparable. Long before Joyce was putting her shoes on the right feet, she was singing. She loved learning about and praising God and became a soprano in the choir, with her mother's stern guidance, her faith in God grew, as did she. As teenagers, one of Joyce and Debby's favorite things to do was
to take their dad's Plymouth Roadrunner with a 440 cubic inch Hemi and race light to light on Franklin Avenue in Gastonia. On one occasion a yellow '66 Ford Fairlane with a 390 cubic inch engine pulled up beside them. The driver wasn't sure if he wanted to race or keep looking at the pretty passenger who was smiling at him, but he had never lost a race, so there was only one thing to do, rev his engine. As soon as the light turned green Debby stomped on the gas and left that yellow Ford in the dust, he probably would have caught them by the next light if they hadn't turned off. Years later, on a blind date, Joyce was introduced to the man who was driving that Ford, Jerry 'Dean' Morris, while he was on leave from the Army, and both of their world's changed forever.
When she walked through the door that day, she stole Dean's heart right away, and in a whirlwind romance, eight days later they were engaged to be married. After two agonizing months of separation, they were wed on March 2, 1975. Just like that, Debby's little sister and best friend was whisked away to Texas where Dean was stationed. After arriving in Texas Joyce was ready to start growing their family, oh how she loved family. On June 7th, 1976 Joyce and Dean welcomed their first child, Jeremy Dean, into the world. The Army sent Dean to Germany while Joyce and Jeremy went back home to Lowell, NC. It wasn't long after Dean's return from Germany and separation from the Army that they moved to Louisiana. Shortly after moving to Louisiana their second son, Joshua Andrew, was born on June 5th, 1979. Next came Jonathan Alan on June 23rd, 1980. On March 27th, 1982 they welcomed the baby boy, Joseph Alexander. In June of 1986, desiring to be closer to family, Joyce and Dean moved back home to North Carolina and were finally blessed with the daughter they always wanted. Their baby doll, Jamie Alicia, came into the world on October 8th, 1986.
Not long after, the family relocated to the Outer Banks of North Carolina. Joyce loved it there, one of her favorite things to do was walk on the beach early in the morning and pick up seashells. The years went by, the children grew, and all the while Joyce continued to praise God through song, first at the Mann's Harbor Church of God, and later at the First Assembly of God Church in Manteo. She raised her children to know God and taught Sunday school. Her passion was always children, she loved them, though her own tested her patience many times.
As time passed by the children grew and moved on to start families of their own. Through the years Joyce was blessed with seven grandchildren, and lost one, all of whom she loved unconditionally. The only thing Joyce loved more than her family was God. On Thursday, April 2nd, 2020 the Lord called Joyce Costner Morris home to join his heavenly choir of angels as its newest soprano. She was preceded in death by her father Billy, her mother Edith and her grandson Jaden. She is survived by her sister Debby, her husband Dean, her children; Jeremy, Joshua, Jonathan, Joseph and Jamie, her son-in-law Nathan, her daughters-in-law Christy and Michael, and her grandchildren; Brendon, Isaac, Mason, Rebecca, Sophia, Chloe and Lucas. The best way to describe Joyce is that she was love personified; selfless, kind, faithful, compassionate, graceful, caring and nurturing. She was a true angel that God gave us for a little while and had to call home too soon. Her passing has created a void in her husband, children and grandchildren that will not be easily filled.
Due to the current circumstances in our nation beyond our control, a celebration of life ceremony for Joyce will be postponed until a later date; but those who knew and loved her will celebrate her life and cherish the memories she gave them every day.
Twiford Funeral Homes, Outer Banks is assisting the family with arrangements. Condolences and memories can be shared at www.TwifordFH.com.