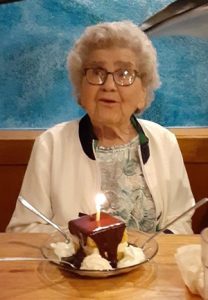 March 31, 1925 – July 10, 2022
WANCHESE — Joyce Tillett Meekins, 97, of Wanchese, NC died Sunday, July 10, 2022, at her home.
A native of Wanchese, she was born March 31, 1925, to the late Sophronia Meekins Tillett and Elisha Gray Tillett.
Mrs. Meekins was a lifelong member of Bethany United Methodist Church. She was a devoted mother and homemaker.
She is survived by five daughters, Myrtle Joyce Williams (Lacy), Yvonne Austin (Gregory), Minta Meekins, Affie Machie, and Denise Mann (Billie); two sons, Charles Macon Meekins, Jr. (Helen) and Elisha Meekins (Christine); daughter-in-law, Liz Ann Creef-Meekins; eighteen grandchildren, twenty great-grandchildren; and nine great-great-grandchildren.
In addition to her parents, Mrs. Meekins was preceded in death by her husband, Charles Macon Meekins, Sr.; and two children, Letitia Daniels and Ulysses Meekins.
A funeral service will be held at 2:00 pm on Tuesday, July 12, 2022, at Bethany United Methodist Church with Rev. Dr. Susanna W. Fitch-Slater and Rev. Ken Mann officiating. Burial will follow in Cudworth Cemetery. The service will be live-streamed on the church's YouTube channel (https://www.youtube.com/channel/UCvKaNdMcGqS95YiViFQ1ydQ/featured). The family will receive friends and relatives for a viewing Monday evening from 7:00 pm until 8:30 pm at the church.
In lieu of flowers, memorial donations may be made to Bethany United Methodist Church Building Fund, PO Box 239, Wanchese, NC 27981.
Twiford Funeral Homes, Outer Banks is assisting the family with arrangements. Condolences and memories may be shared at www.TwifordFH.com.