November 3, 1949 – July 18, 2022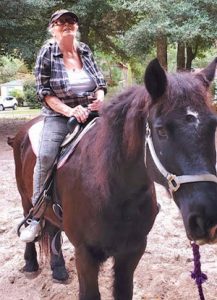 FRISCO — On July 18, 2022, my friend Judith Lee Boyce suddenly passed away. She was 72 years old.
Judy was adopted at birth in Virginia by her parents, Francis Walker Boyce and David Wood Boyce.  With them and her brother, she spent many happy days at the beach in Hatteras, NC.
As she grew, she married twice and had three children, but she never forgot her time at the shore. She made her dream of living here a reality in 2011 and spent the remainder of her years on the Island. She loved it here.
Judith is survived by her brother, David (Debbie) Boyce; three adult children: Karen (Russell) Keehl, Shannon (Ken) Cantwell and David McGarey; grandchildren: Brandi Nichole Miles, Alexander McGarey, Courtney Cantwell, Jonathon McGarey, Abigail Lucinda Rita McGarey, Carly Tackett, and Dylan Higgins; her special friend Jim Coyne; many island friends including me, Suzie Scholten; and her dog, Jax.
Judy never knew a stranger and all who met her remembered her generosity. She gave from the heart. Judy was a proud veteran of the Army and spent hours volunteering to better the lives of those who have served. Judy loved all animals but especially dogs and horses. Above all, Judy loved the Lord and is now at peace in Heaven.
A celebration of her life will be held at a later date this fall, when the fishing is good.
Twiford Funeral Homes, Outer Banks is assisting the family with arrangements. Condolences and memories may be shared at www.TwifordFH.com.