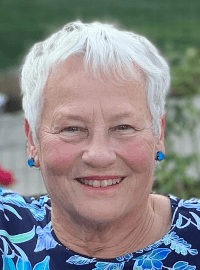 Karen Elizabeth Tetreault left this world on October 20, 2021, surrounded by family and on a wave of love from the many people she loved and who loved her.
Karen was born in Toledo, Ohio to Blanford and Florence Boston, arriving after brothers Jim, John, and Ron, and five years before sister Tana. The hospital staff was so smitten with Karen's blonde curls, aquamarine eyes and chubby cheeks, that they framed and posted her picture.
Karen attended St. Catherine's grade school and St. Ursula Academy high school. An excellent speller, she won the all-Toledo spelling bee as a grade-schooler. She learned to sew, and took her first train ride ever to go to Cleveland to accept an award for a magenta satin dress she made as a high-schooler. As much fun as academics and hobbies were, the friends Karen made as a girl sustained her. Penny and Karen met in grade-school, where Karen's warm smile led to a lifetime connection. Nancy and Karen met at St. Ursula; when Karen was extra kind to Nancy, after Nancy got a nasty smack from one of the nuns, they became friends.
From the time she was a child, Karen loved travel. She got her Dad to subscribe her to travel magazines while still a grade-schooler. Trips to Topsail Island, North Carolina as a child, and a high-school era trip to Europe made lasting impressions. After finishing a course at Stautzenberger Business School, Karen took what was supposed to be a quick trip to the Bahamas. Instead of coming home, Karen got a job with a company in Nassau. (The job for an American was justified because of Karen's skills as a "Spanish translator.") In Nassau, Karen went to mass daily, and met Kim, and the two remained friends for the rest of their lives.
Pool-side at her Nassau apartment complex, Karen met Bernie. "Nine days later" over the course of a year and a half, they were engaged in June. The October 1964 wedding was in Toledo. Consistent with Karen's fondness for travel and in lieu of an engagement ring, the newlyweds took a month-long honeymoon tour of Europe with their trusty $5 a day guide. (The IOU was redeemed when Bernie surprised his bride on their 25th anniversary on a return trip to Paris using their trusty $25 a day guide.)
Karen and Bernie had a genuine loving partnership, supporting each other in their careers, and pushing each other to become better together and as individuals. For 57 years, fearing embarrassment, Karen outfitted her spouse for his executive positions but often failed to edit his attempts at humor. She succeeded glowingly at being a sounding board for his work related frustrations often offering wise counsel to resolve the source of the stress. The whole of Karen and Bernie was greater than the sum of its parts.
Karen and Bernie had four children, and had a hand in raising several more. Karen was the MacGyver of moms. With four young ones to feed, she would put the kids' food in the blender, then serve them their meal-in-a bottle. Nevertheless, Karen found time to sew their clothes, including matching Easter outfits and Stretch-N-Sew t-shirts. When the family went to dollar nights baseball games at Baltimore's Memorial Stadium, Karen would put a package of franks into an empty Thermos, add boiling water, and presto, a ballpark dinner! She always had snacks and water handy, and tissues in her purse. The kids were always encouraged to bring their friends around, and Karen welcomed one and all warmly.  Karen was an avid supporter of her children all their lives, celebrating their accomplishments – she was present for all their milestones – and made frequent visits to their homes which were widely dispersed coast to coast.
Karen's defining characteristic was that she was a fundamentally happy person. She felt confident in the love she gave and received, and that confidence allowed her to share her love generously, selflessly, openly. While Karen had many friends, she was especially close to her sister. Karen and Tana spent as much time together as they could – driving cross country to deliver a car, going on a cruise, attending birthdays and graduations, girls trips with the YaYas, and many more joyful adventures.
She had a great sense of humor, especially about herself. While she was a beautiful woman, she was without vanity, delighting in wearing seasonal earrings and head ornaments, such as Santa's reindeer antlers, and Halloween pumpkin earrings, items often accompanied by lighted necklaces of candy corn or Easter eggs or Christmas lights. Karen loved to decorate for all the holidays, draping the house with Fourth of July bunting, putting out white fur chair covers with giant bunny ears at Easter, and changing the front door wreath with the seasons. While she was warm, welcoming, and assumed the best of everyone, Karen was also an excellent judge of character and had no time for the mean, intolerant or rude.
Karen read widely, and retained just about every scrap of information that came her way. The family will be lost without her encyclopedic knowledge. She idolized Princess Grace, and enjoyed the best parts of celebrity culture, following celebs' clothes, travel, and awards all her life. She remembered everyone in her life's names, their spouses, and their kids, along with their birthdays. Celebs too!  Got a new puppy? Karen could ID the breed from a photo. Driving down the highway and notice a car? Karen knew the make, model and year before you got close enough to read it yourself. Karen dominated at Trivial Pursuit. She was Google before Google. But more importantly, Karen would use these data points to make connections between and among people at just the opportune time. Building community was her great gift, and she used it generously.
Karen's love of travel led to a career as a high-end travel consultant, a role that allowed Karen to combine her love of travel with her ability to help people get what they didn't know they wanted. Karen specialized in Australia, making numerous visits there, but also to dozens of countries, and hundreds of cities. Her clients and colleagues adored her, none more so than her fellow consultant Di. Karen, Di and their husbands shared a deep and loving friendship.
Karen made everywhere she lived lovely. When Karen retired, she and Bernie moved to the Outer Banks of North Carolina, with Karen acting as construction manager of their home, Sailfish Station. Fish-themed décor, a huge round dining room table, and a separate guest suite ensured visitors were welcome and comfortable. She did the same with their modest home in Long Island, Bahamas, Full Circle. The move to Pennsylvania was no different – Karen perfectly feathered the nest all wish so desperately she could have stayed to enjoy.
Karen was a loving grandmother—known as "Nana"–to four grandchildren: Matthew, Eleanor, Lillian, and Phoebe. There is absolutely nothing she would not do to make her grandchildren happy, putting immense time and energy into every birthday, graduation, or visit to Avon to make it "so special." She was known for doling out $20 bills to any grandchild that would scratch her back for two minute and hosting spa days on the back porch in Avon for the granddaughters when they visited. She was the kind of Nana that if you mentioned something (anything) in passing that you wanted, it showed up in the mail the next week. She was the most generous, loving, and kind Nana, and will always be loved by her four "angels."
Karen is survived by her husband of 57 years and 17 days, Bernard; sister Tana and her husband Ron; son Brian and his wife Nina, son Brad and his wife Sara, daughter Christina and her husband Christopher, son Bruce and his wife Lauren; grandchildren Matthew, Eleanor, Lillian, and Phoebe; cousins; Godchildren; nieces and nephews; six grand-cats and two grand-dogs. In addition to those friends named here are many, many more. Karen's warmth and positive outlook, her genuine interest in other people, and her kindness drew people to her. She made and maintained deep friendships. We know that there are hundreds of people who join her family in our profound grief over her sudden death. As befits a world traveler with hundreds of friends, there will be multiple celebrations of Karen's life, including in Avon, Long Island, Petaluma, and Bucks County. Contact the family if you would like to be alerted to the details.
In lieu of flowers, the family asks that donations be directed to The Bernie Scholarship Awards Fund (https://berniescholarships.org/ ; donation link: https://cfncr.wufoo.com/forms/the-bernie-scholarship-fund ) or Saving Grace Rescue for special needs kittens and cats (https://www.savinggracerescue.com/ ).