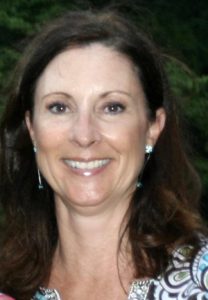 MANTEO — On May 28, 2022, Kelley Loughlin France was called to her eternal home, from her abode of the North End of her now beloved Roanoke Island.
Kelley was born to Alfred and Rose Loughlin and raised in the Garden State of New Jersey.  Kelley migrated to Elon College from which she was graduated.  There she met her husband of nearly 38 years, Mike France.  Mike moved with Kelley to the Outer Banks to manage the Oasis Restaurant started by his grandmother, Violet Kellam.  At first, she hated and decried this isolated island, but came to love it with a deep and abiding passion that rivaled a spiritual connection.  Later, you could not pry her away from the Outer Banks.
With raven hair, sparkling brown eyes, slight dimples, she had a certain effervescent smile that could chase away all weariness and unease, just by entering a room.  Always visually stunning, Kelley was as beautiful internally as externally.  A mix of tenacious Irish and zesty Italian; a "Jersey girl" (immediately apparent from her jargon), she was imbued with an innate sense of aesthetic order.  She was even a bit bougie at times, as Lauren notes.  She was always comporting prim and proper – except at happy hour.
Kelley loved her family; all of them, including her brother Kevin (Rose Loughlin) and her sisters: Kathleen (Paul Forde), Mary (John Cordasco), and Colleen (John Huff).  When they were together it was a cackling bevy of beauty.  She adored her eleven nieces and nephews: Ryan, Tim, Charlotte, Sam, Kevin, Emily, Kyle, Abigail, Will, Luke, and Chandler.  She was steadfastly loyal as a wife and to all those she loved.
Above all but God, she loved and was devoted to her children: Lauren, Mikey, and Delaney.  She vowed to see her daughters married and she did.
Her first regular job post-college was as a flight attendant.  Any reference to "stewardess" would draw instant rebuke punctuated by a strong punch to the arm or chest.  However, she found her true calling and that which she was best at as mother.  A fierce "mama bear", as her daughter recalled, she was always pedagogical and instructive.  A part-time substitute teacher, she was always turning any incident or event into a teaching moment with lasting lessons about life and living.  It was as if her mission was to prepare others.
Through chemo treatments, multiple surgeries, even volunteering for medical trials, through life's adversity, she remained optimistic, even to the end.  She fought ferociously yet accepted the hand she was delt with a certain philosophical manner borne of faith and prescient with purpose.
Kelley loved to laugh and joke with a propensity for barbs and darts pointed but usually not venomous. Never a sycophant or shrinking violet but with confluence of compassion and passion, she allowed no amount of time to expire before she acquainted you with her true beliefs about any subject she deemed important.   She was an advocate, whether sending a hand-written missive to a teacher believed to be misguided or in exhortation for improvement to legislators or even presidents.
From umpires disagreeably calling children's sporting events to life's challenges and adversity, even to the dreaded disease with which she contended, she did so with a certain composure and understated courage.  She insisted on giving her family lasting memories and ineffaceable impressions including a few notable trips to Italy.  Always a tenacious and tough competitor, even with that disease which would eventually take her life, she waged a fierce battle. Kelley confided in her daughter that she hated when people said that someone had lost a battle with cancer. She instead focused on living – and living well.
She loved life and embraced it fully and full-on.  She relied upon and relished in her faith.  A devout Catholic, she was inexorable in her belief.  Resolute and fastidious, she tolerated no joking about her religious exercise.
Paul prayed that his friends "may be able to discern what is best" (1 Phil. 1:10). While we all make choices, some choose temporal things instead of lasting treasures.  Kelley sought to gather up those things that would truly enrich her family and others.  She left lasting things to be kept forever.  She chose those with eternal significance.  She leaves indelible marks on all those around her.  She always chose best.
A Mass of the Resurrection will be celebrated at 1:00 pm on Thursday, June 9, 2022, at Holy Trinity by the Sea Chapel. In lieu of flowers, her family asks that donations be made to the Duke Cancer Institute Fund, in appreciation for the excellent care Kelley received over the last few years.
Twiford Funeral Homes, Outer Banks is assisting the family with arrangements. Condolences and memories may be shared at www.TwifordFH.com.