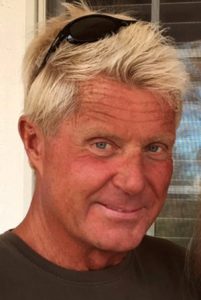 October 8, 1954 – December 27, 2020
HATTERAS — Kevin Paul Piotrowski left this world and was welcomed into his heavenly home on Sunday, December 27, 2020 at the age of 66.  For nearly two years Kevin fought a courageous battle with pancreatic cancer and ultimately passed away from complications related to his disease.  During this time, he modeled exemplary courage, faith, and dignity.  Kevin passed peacefully, with his fiancée Kelly by his side, at the Duke Hospice-Hock Family Pavilion in Durham, NC.
He was born to Paul Edward and Balbina Joan (Holtz) Piotrowski on October 8, 1954 at St. Peter's Hospital in New Brunswick, NJ.  He graduated from Manasquan High School in Manasquan, NJ and from Kean University in Union, NJ.
Kevin was an avid surfer, snowboarder, and a retired elementary school PE teacher.  Kevin enjoyed a 38-year career in education working for the Manchester Township School District.  In addition, Kevin was a long-time member and lifeguard captain of the Belmar Beach Patrol in Belmar, NJ.  For as much as Kevin loved the ocean, he also loved the mountains and snow.  While living in New Jersey, he spent winters traveling to Vermont on weekends where he worked and later served as a volunteer snowboard instructor at Mount Snow in West Dover.  Kevin was passionate about snowboarding and one of his greatest joys was the time he spent working with the Mount Snow Adaptive Sports program.  This program teamed children and adults with physical and mental disabilities with extraordinary instructors so they could experience the joy of snowboarding unencumbered by a wheelchair or braces.  Kevin was an extraordinary instructor and was gifted with patience and kindness that made him perfect for this program.
Kevin started coming to Hatteras Island to surf in the 70s.  He loved the simplicity of the Island and the beautiful uncrowded beaches.  He knew one day he would make Hatteras Island his permanent home.  After his retirement in 2014, Kevin spent the majority of his time in Hatteras and eventually became a full-time resident.
In June 2016, Kevin met his fiancée Kelly and in March 2019 they were engaged.  She became his life partner, best friend, and during his battle with cancer she was his caregiver.  They enjoyed a wonderful relationship and life together that was centered in their love for the Lord.
Kevin was a faithful member of the Cape Hatteras Baptist Church.  He was a member of the praise band where he played the cajon.  Kevin loved participating in the music ministry of the church.  His pleasant personality was a blessing to all who knew him, and he will be deeply missed.
Kevin is survived by his fiancée Kelly Keys Wilson of Frisco, NC and her children Andrea Wilson (Brenden Lindsay) of Nags Head, NC and Simon Wilson of Frisco, NC; daughter, Noelle Piotrowski of Middletown, RI; sister, Patricia Delany of Sinking Spring, PA; niece, Patricia Marie Ecenroad (Peter) and two great nieces Natalie and Kelly Ecenroad of Mount Gretna, PA; and dear friends who were like family, Carrol and Peggy Bowen of Buxton, NC, Tim Bowen and Melinda Cooper of Chesterfield, VA, and Chuck Bowen (Deborah Hall) of Colonial Heights, VA.
He was preceded in death by his father, Paul Edward Piotrowski, mother, Balbina Joan Holtz, and sister Paulette Piotrowski.
The family would like to thank those who were faithful in praying for Kevin during his battle with cancer.  To the wonderful doctors and caregivers who were part of Kevin's journey, thank you for your kindness and compassion.
A celebration of life service will be held on Saturday, February 6th at 2 p.m. at Cape Hatteras Baptist Church in Frisco, NC.  Due to the COVID-19 pandemic, this will be a private service.  However, the service will be streamed via the Cape Hatteras Baptist Church Facebook page.  There will also be a memorial paddle-out to commemorate Kevin's life held during Memorial Day weekend.  Specific details of the event will made available closer to the date.
In lieu of flowers, please consider donating to the Hatteras Island Cancer Foundation PO Box 442 Hatteras, NC 27943.