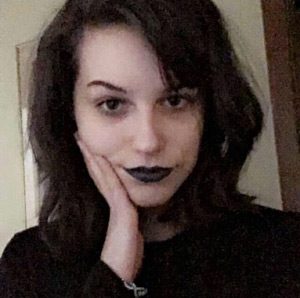 February 23, 2002 – February 14, 2023
MANTEO — Kirby Jane Sadler of Manteo, N.C. passed away on February 14, 2023, at the age of 20. In her short time on Earth, Kirby was a prolific artist whose creativity knew no bounds. True to her artistic nature, she was never afraid to be an individual, which shone through in her distinctive style.
From a young age, Kirby met adversity in life with the maturity of an old soul. This was especially evident in the way she cared for and protected her younger sister, Cassidy, throughout her childhood. Kirby loved fiercely, and she extended this deep affection to her partner, Dylan, who she frequently called the love of her life. Those who knew Kirby will remember her as a true empath who always put others before herself.
Kirby is survived by her father, Greg Sadler; her siblings, Andy Hatzigeorgiou, Ashlee Hicks, Connor Sadler, Courtney Sadler, and Cassidy Sadler; her grandparents, Carol and Kirby Tillett; her grandfather, Jerry Austin; and her partner, Dylan. She is also survived by a large, close network of extended family members. She was preceded in death by her mother, Belinda Tillett; and her grandmother, Metta Austin.
A public memorial service will be held at 4:00 pm on Thursday, February 23, 2023, at Twiford Colony Chapel. Flowers are welcome.
To live-stream Kirby's service, visit her obituary page at TwifordFH.com.
Twiford Funeral Homes, Outer Banks is assisting the family with arrangements. Condolences and memories may be shared at www.TwifordFH.com.