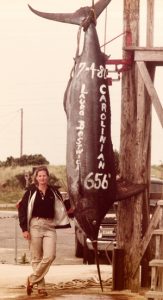 WANCHESE — Laura Bostwick of Wanchese, NC died at home on May 3, 2021, at the age of 76. Born in Old Westbury, Long Island to G.H. (Pete) Bostwick and Laura Curtis Bostwick, Laura attended Green Vale School, Foxcroft School, and Hunter College in New York City. Her marriage to Robert (Bob) Benson ended in divorce. She was the stepmother to the late "Tre" Benson and Marc Benson. Laura is survived by two brothers, G.H. "Pete" Bostwick, Jr. of Locust Valley, NY, and James F.C. Bostwick of Brookville, NY; three half-siblings, Marie (Sissy) Bostwick Armstrong, Charles (Charlie) Bostwick, and Richard (Ricky) Bostwick; and seven nieces and nephews.
A world-class angler, Laura held the North Carolina state record in 1980 for her catch of a 656-pound blue marlin. She had a keen interest in the arts and was a close friend to the renowned painter and sculptor Jasper Johns, who was instrumental in Laura moving to North Carolina. After moving to Wanchese, Laura built a home consisting of three Buckminster Fuller geodesic domes, with a fourth that served as a studio. Her interests extended to travel, fashion, and amateur photography, and she was a gourmet cook, accomplished enough that Craig Clairborne, the former food editor and restaurant critic for the New York Times, devoted a chapter to her in one of his books. She was a true animal lover and show dog owner and was the first person to bring French Bulldogs to Roanoke Island, NC. Laura had a great appreciation of people and conversation and was known for her amazing sense of humor and clever, witty personality. Her interests were infused with spectacular enthusiasm and always accompanied by unique perspectives. An extraordinary human being, Laura's zest for living was matched by her bravery, facing the end of her life with amazing dignity and grace. Truly a remarkable woman, Laura was kind and devoted to her family and friends, all of whom will miss her greatly. We thank her for her many life lessons, as well as her inspiring attitude about living.
A celebration of life will be held at a later date in Wanchese, NC. In lieu of flowers, donations may be made to The Leukemia and Lymphoma Society, Donor Services, PO Box 98010, Washington, DC 20090-8010 (https://donate.lls.org/lls/donate).
Twiford Funeral Homes, Outer Banks is assisting the family with arrangements. Condolences and memories may be shared at www.TwifordFH.com.