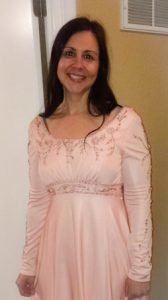 KILL DEVIL HILLS — Laura Minton Davies, 45, of Kill Devil Hills, NC died Monday, February 24, 2020, at her home.
A native of Dare County, she was born on December 11, 1974, to Elaine Wise Minton and Rodney Minton (Kim).
An amazing mother, Laura was known for her positive outlook and love of animals. She was a talented artist and often a jokester.
In addition to her parents, Laura is survived by two children, Anna Camille Davies and Kelly Issac Davies; two brothers, Derek Minton (Cheryl Miller) and Jason Minton; niece, Kimberly Pratt (Vaughn); nephew, Michael Minton; grandniece, Addisynlee Pratt; the father of her children, Matt Davies; and her beloved cat, Henry.
The family will receive friends and relatives for a gathering on Thursday, March 5, 2020, from 6:00 pm until 8:00 pm at Twiford Colony Chapel, 500 Budleigh Street, Manteo.
Twiford Funeral Homes, Outer Banks is assisting the family with arrangements. Condolences and memories can be shared at www.TwifordFH.com.