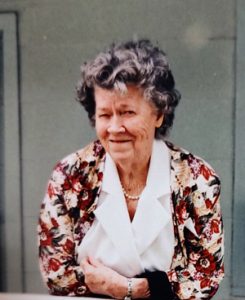 November 8, 1929 – August 19, 2022
SALVO — Lela Mae Fulcher, born November 8, 1929, went to be with the Lord Friday, August 19, 2022, at her lifelong home.
She is survived by her daughter, Carolyn Denise Lane, and husband Ralph Lane; granddaughters, Constance Tiea Lane, Echoa Michelle Lane, and Desiree Lane; her great-grandchildren, Tyler Lane, Aleah Lane, Ayden Hess, Mathew Smith, and Breanna Lane; and sister-in-law, Joyce Midgett. Mae loved her grandchildren and had a special relationship with her great-grandson, Tyler.
Mae was preceded in death by her parents, James Graves Midgett and Palmyra Daily P. Midgett; sisters, Mary Ellen Farrow (Perley Farrow) and Martha Ann Midgett Fountain (Robert Earl Fountain); brothers, Zion B. Midgett (Susan Midgett), Melvin Midgett (Eula Mae Midgett), James Graves Midgett (Vicki Mae Midgett), Alvin G. Midgett (Thelma Midgett), Vance Midgett (Helen O. Midgett),  Linwood R. Midgett.
Mae was a native of Salvo, NC. She raised her daughter in the same home she was raised in. She graduated from Rodanthe High School.
She loved and served the Lord and faithfully attended Clarks Bethel United Methodist Church. She was a caregiver, and housekeeper at the Hatteras Colony in Salvo, NC; an awesome mother, grandmother, and great-grandmother, and a friend to all she knew.
A memorial service will be held at 11:00 am on Monday, August 29, 2022, at Clarks Bethel United Methodist Church.
To plant a tree in memory of Mae or send flowers to the family, please visit www.TwifordFH.com/send-flowers.