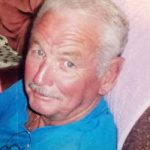 HATTERAS — Leon Richard Scarborough, Sr., 82, passed peacefully after a battle with cancer, in his home in Hendersonville, NC on February 7, 2019 — 3 weeks before his 83rd birthday. Born and raised in Hatteras, NC, he was the son of the late Fulton and Wilma Scarborough. He proudly served in the United States Coast Guard, retiring after 20 years, to take on the life of a commercial fisherman, hunter, the family's "Mr. Fix-It" and a community "Old Timer."
Leon was predeceased by his wife Irene L. Scarborough and is survived by his wife, Carole Scarborough. He is also survived by his children Lesley and Chris Hickman, Leona and Donald Newton, Leon Richard "Rick" Jr. and Donna Scarborough; step-children, H. Lucien and Michelle Gauthier, III, Mercedes and soon to be born Zoey Ann; Courtney Gauthier and Ashley McGarland; siblings, Bobby and Joyce Scarborough and Cecelia and (Gene – deceased) Newcomb.
Grandchildren and great-grandchildren, Stephen, Carinne and Taylor Hickman; Jessica, Brett and Grayson Barnett; Starla Newton and Brandon Hughes, Jr. He is also survived by many nieces and nephews.
A memorial service will be held Saturday, February 16, 2019, at 2 p.m. at the Hatteras Assembly of God, Pastor Durwood Willis presiding. The family welcomes floral arrangements delivered to the Hatteras Assembly of God or donations may be made to the Hatteras Island Cancer Foundation online or mailed to P.O. Box 442, Hatteras, NC 27943.