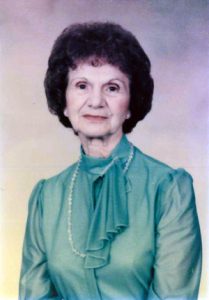 July 11, 1921 – August 1, 2020
RODANTHE — Lovie O'Neal Midgett, 99, went home to be with the Lord on August 1, 2020. A native of Rodanthe, NC, Lovie was born into a loving family on July 11, 1921. She was the daughter of the late Beulah M. O'Neal and Fredrick B. O'Neal.
Lovie was predeceased by her husband, Valton G. Midgett; and daughter, Tina M. Outten. She was also preceded in death by four sisters: Helen Midgett, Zenovah Hooper, Cynthia Williams, and Olive Patrick; and four brothers: Fredrick, Oscar, Arval, and Jimmy O'Neal.
Lovie was a lifelong member of Fair Haven United Methodist Church and the United Methodist Women. She was a member of the Eastern Star and Outer Banks Rebekah Lodge #165. She was Past President of the North Carolina Rebekah Assembly.
Left to cherish her memory is daughter, Connie Page and husband Randy; son-in-law, Paul Outten; and sister-in-law, Jazania O'Neal. She was a loving Mamaw to six grandchildren: David (Holly), Ryan (Danielle), Lovie (Jason), Paula (David), Andy (Kristen), and Jonathan; eleven great-grandchildren, two great-great-grandchildren; as well as many nieces, nephews, extended family and friends.
Lovie will be greatly missed and will forever be in the hearts and memories of those who loved her.
A funeral service will be held at 2:00 pm on Saturday, August 8, 2020, at Fair Haven United Methodist Church with burial to follow at the Midgett family cemetery in Rodanthe. The family will receive friends and relatives Friday evening from 6:00 until 8:00 pm at the church.
In lieu of flowers, memorial donations may be made to Fair Haven United Methodist Church, PO Box 206, Rodanthe, NC 27968.
Jesus said unto her, I am the resurrection, and the life: he that believeth in me, though he were dead, yet shall he live: And whosoever liveth and believeth in me shall never die.  John 11: 25-26
Twiford Funeral Homes, Outer Banks is assisting the family with arrangements. Condolences and memories may be shared at www.TwifordFH.com.