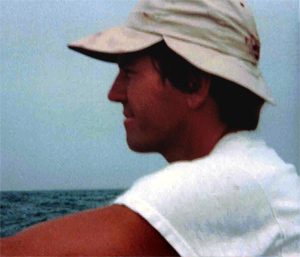 May 16, 1955 – August 17, 2023
HATTERAS — Luther "Buddy" Dudley Burrus III, of Hatteras, North Carolina, passed away on August 17, 2023, at the age of 68. He was born on May 16, 1955, in Buxton, North Carolina.
Buddy was a beloved father, brother, and friend who will be deeply missed by all who knew him. He is survived by his son Caleb Burrus (Candace Burrus) of Kill Devil Hills. Additionally, he leaves behind his brother Dwight Burrus (Debbie Burrus) and his sister Bonnie B. Williams (Charles Williams). Uncle Bud was dearly loved by his nieces and nephews, Dabni Shelton, Andy Veal, Courtni Rush, Jessica Felice, Matthew Williams, and Hannah Dunavant.
Buddy was preceded in death by his son Jordan Burrus, parents Deloris Harris Conner and Luther Dudley "Dud" Burrus II, his sister Reba B. Stokes, and nephew Charlie Burrus. While his passing brings great sorrow to those who loved him, his memory will forever be cherished by his surviving family and friends.
Weathered by a lifetime of sun, wind, and salt water, Buddy was a Hatterasman through and through. He was a father, a brother, and a friend to many, and his loss leaves us all with a great emptiness to fill. He will be remembered for his heart, his humor, and his deference for the ocean and nature. Even for being soft-spoken, few people who Buddy met were not left with a lasting impression. His spirit was free and contagious.
He was never too busy or tired for his sons Caleb and Jordan, even after spending long hours at the fish house or on a crabbing boat. Always ready to throw some baseball, shoot some hoops, or just go out for a boat ride, if there was ever a man who showed his love through actions it was Buddy.  Trailed by his sons and the family dogs, he wanted to share everything he learned from the island with his boys.
Though life may lead us down paths we don't expect, Buddy remained warm and loving in the face of loss and grief. He personified kindness and humility and was the kind of person who naturally put children and animals at ease with his decisive calmness. He was a man who always opened his house to others, someone who would listen without judgment, and someone who would help without expecting anything in return.
Hatteras has truly lost one of its children.
A memorial service will be held at 11:00 am Saturday, September 23, 2023, at Hatteras United Methodist Church, with Rev. Toni Wood officiating.
In lieu of flowers, please make donations to Hatteras Island Meals by visiting their website, HatterasIslandMeals.org or donate through mail, PO Box 854 Buxton, NC 27920.
Twiford Funeral Homes, Outer Banks is assisting the family with arrangements. Condolences and memories may be shared at www.TwifordFH.com.