May 13, 1947 – December 28, 2020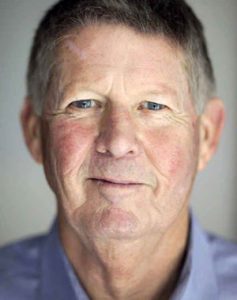 MANTEO — Former Senate President Pro Tempore Marc Basnight, the longest-serving legislative leader in North Carolina's history, passed away peacefully and surrounded by his family Dec. 28, 2020, at his Manteo home. He was 73.
The youngest of seven children, Basnight came from a hard-working, humble family that valued community involvement and public service. First elected as District 1 state senator in 1984, he served 13 terms representing northeastern North Carolina in the Senate and nine terms as President Pro Tempore. He worked with five different Speakers of the House of Representatives and three different governors during his tenure as Senate leader before retiring in 2011.
After leaving the Senate he enjoyed spending time with family, especially as "Poppy" to his beloved grandchildren; continuing his voracious reading; chatting with customers and making sure everything was running smoothly at the Lone Cedar Café, the restaurant he opened with his family in 1996; cracking (mostly good) jokes as he loved to do with everyone; and driving around the beach to visit with friends or check on people in the community who were having a tough time.
Marc's genuine love for his fellow North Carolinians and sincere curiosity about what they thought led to a uniquely personal approach to public service. What should have been a three-hour commute between Manteo and Raleigh often took him nearly twice as long, thanks to his stops at country stores, restaurants and barbershops along the way. He often drove to communities across the state, stopping at local businesses and historic sites to talk with people about their lives and opinions. Many a complete stranger was taken aback by his common practice of walking up, introducing himself and asking if there was anything they needed help with that day. And his Raleigh office came to expect that when he called in, he would often hand over his cell phone to a constituent who needed assistance. After hurricanes hit, he would drive to hard-hit areas to inspect the damage himself, using his phone to secure ice, water, bulldozers, medical help or whatever people needed.
This personal approach influenced the way he governed the Senate and ran his office. Basnight appointed Republicans as committee co-chairs while nurturing the next generation of Democratic state leaders, and worked with legislators of both political parties to build consensus on budget and policy issues. If a legislator of either party needed help with a constituent case, Basnight made his staff available to assist. His focus on constituent service – and frustration with bureaucracy and red tape – stemmed from his belief that government should work effectively and efficiently for every North Carolinian.
Basnight's personal experiences also helped guide his legislative priorities. As natives of Roanoke Island, where generations fed their families and built their livelihoods from the bounties of the land of water, Marc and Sandy Basnight loved to take their daughters clamming and shrimping in the Sound. Marc understood the importance of conserving natural resources and the link between a healthy environment and a healthy economy. That link inspired his environmental initiatives, the most well-known being the Clean Water Management Trust Fund, created in 1996. The state's first and only dedicated source of revenue to preserve environmentally sensitive areas and help communities improve water quality, the Fund has conserved more than half a million acres of land and has protected or restored 3,000 miles of streams and rivers throughout North Carolina.
Basnight also knew that a strong economy depended on a skilled workforce, and made higher education a top priority. He was instrumental in the passage of a $3.1 billion bond package in 2000 to help universities and community colleges build and repair critical facilities. Approved by more than 70 percent of the state's voters, the bond package helped campuses statewide prepare for a population growth of 100,000 new students and was the largest single investment any state had made in higher education facilities.
In later years, Basnight continued to push for yearly investments in university facilities to improve instruction and research, especially in the areas of science, education, and medicine. He championed the North Carolina Cancer Hospital, which treats patients from all 100 counties, and created the University Cancer Research Fund, which invests more than $50 million annually in research on improving the prevention and treatment of cancer, a disease that affects one in three North Carolinians.
Basnight believed that every North Carolinian should have an opportunity to do well and be well, no matter their ZIP code or station in life. Coming from an isolated area of the state that was closer to Virginia than Raleigh, he focused on helping rural areas and small communities throughout North Carolina. In his first state government position – a 1977 appointment to the State Board of Transportation – he worked to improve roads and bridges in the northeastern part of the state.
As a senator, he made sure rural communities got their fair share of state resources, whether it was water-sewer bonds, transportation funding, public school funds for small counties, or economic-development incentives. Summers spent acting in The Lost Colony in Manteo was a family tradition for the Basnights, and his appreciation for the arts continued in his work at the legislature. He strongly supported historic and cultural arts funding for rural areas as a way to enrich communities, attract visitors and spur economic growth.
Though he worked tirelessly to help Dare County and the northeast, he declined many entreaties over the years to have roads, bridges and other projects named after him. The exception – and only after much convincing – was the replacement for the Herbert C. Bonner Bridge over Oregon Inlet. Built in 1963, the Bonner Bridge was deteriorated, and replacing it with a new, safe bridge was something Basnight had pushed for years. In recognition of his efforts, the state named the new bridge in his honor, and the 2.8-mile Marc Basnight Bridge over Oregon Inlet opened in April 2019.
Marc's love for North Carolina and Roanoke Island is second only to his love for his family. He is preceded in death by his wife, Carolyn "Sandy" Tillett Basnight; his father, Saint Clair Basnight; his mother, Cora Mae Daniels Basnight; his brother, E.J. Alford; and his sister, Sarah Owens.
He is survived by his daughters, Vicki (Amy) Basnight and Caroline (Allen) Basnight; his grandchildren, Brayden, Marc Crew, and Kennedy; sister Dotty Fry; sister Sally (Phil) Scarborough; brother Saint Clair (Bea) Basnight Jr.; sister Della Basnight; brother-in-law Bobby Owens; sister-in-law Candy (Will) Daniels; brother-in-law Hughes (Janice) Tillett; and many nieces, nephews and cousins.
A scholarship fund has been established in Marc's name to provide young people with an opportunity to further their education. In lieu of flowers, donations may be made to the Marc Basnight Scholarship Fund through the Outer Banks Community Foundation https://www.obcf.org/marc-basnight-scholarship/. The family also asks that you consider planting a tree in Marc's memory, as he enjoyed planting flowers, trees, and vegetables in his garden.
Due to COVID-19, a private burial service was held for the family. A public memorial will be held when Marc's loved ones and fellow North Carolinians can safely gather together to celebrate his life and love for our state.
Twiford Funeral Homes, Outer Banks is assisting the family with arrangements. Condolences and memories may be shared at www.TwifordFH.com.