May 7, 1960 – November 28, 2020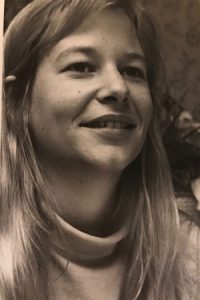 COLINGTON — Martha Brower Adkins Butcher, 60, passed away peacefully in her home in Colington, NC on November 28, 2020. Born in Petersburg, VA on May 7, 1960, Martha was the daughter of the late Eleanor Brower Adkins and Thomas Eaton Adkins, Jr. of Petersburg, VA.
Martha is survived by her husband E. Daniel Butcher. In addition to her husband, Martha is survived by her daughter Aubrey Smith and husband Jared Smith, son Nathan Butcher, two sisters Eleanor Davidson, Nancy Kevan Lazaron and husband Edward Gerst Lazaron, and two brothers, Thomas Eaton Adkins, III and wife Catherine Arnault Adkins, and Jim Adkins and wife Ellen Adkins.
Above all, Martha was about her family. Her sincerity towards friends was unmatched. Martha's true passion was art – whether it was something she created or teaching elementary students and enabling them to create art. For over 30 years Martha taught art in Dare County Schools and during this time she helped students and others understand and appreciate the importance of art in our lives. There were many lives she helped to achieve this love of art. She will be missed.
A private memorial will be held in her memory in December and a celebration of life will be held in the Spring of 2021.
Donations to honor Martha's memory may be made to our local chapter of the Make a Wish Foundation, Make-A-Wish Eastern North Carolina (3809 Computer Drive, Suite 201, Raleigh, NC 27609 or online at eastnc.wish.org).
Twiford Funeral Homes, Outer Banks is assisting the family with arrangements. Condolences and memories may be shared at www.TwifordFH.com.