F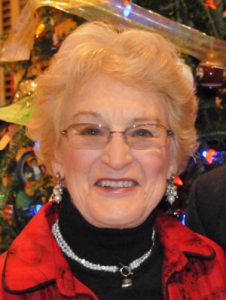 ebruary 2, 1933 – November 16, 2022
Maxine Scarborough Thomasson, born February 2, 1933, passed away on November 16, 2022, at age 89. She was surrounded by her loving husband of almost 67 years, Larry, daughters, and other family members. Maxine was a native of the Outer Banks, spending her youth in Kinnakeet Village, and then her teen years and later in retirement in Manteo. Maxine graduated from Manteo High School in 1951 as the Valedictorian and from Greensboro College in 1955 with a degree in History and Social Studies. She began her teaching career at Princess Anne High School in Virginia Beach where she met Larry Thomasson of Bassett, Virginia, a recent Virginia Tech graduate who was stationed at nearby Ft. Story. Their courtship was short, as Larry was smitten and even offered to help her grade papers just to get to spend time with her. They married on February 11,1956, at Mt. Olivet United Methodist Church in Manteo.
After Larry completed a tour of duty during the Korean War, the young couple moved to Northern Virginia, where Larry's career with the U.S. Department of Agriculture's Foreign Agricultural Service (USDA/FAS) began. Maxine taught for one year in Alexandria, Virginia. They then moved to Maryland where Maxine taught five years at Greenbelt Middle School while Larry earned a Master's Degree at the University of Maryland. In 1961, Larry received his first overseas U.S. Embassy assignment to Brazil, where their first daughter, Elaine, was born. It was the first time either of them had ever flown on an airplane. In 1963, Larry's work took them to Lisbon, Portugal, where Larry served four years as the U.S. Agricultural Attache, and where daughters Emilie and Susan were born. They returned to serve in the Washington, D.C. office until 1973, when they moved to Tokyo, Japan, to serve as head of the USDA/FAS office in the U.S. Embassy. While in Tokyo, Maxine taught English to numerous groups of adults and one year to students at Aoyama Gakuin University. They returned to the Washington, D.C. area in 1977, where Maxine, having found a passion for teaching English as a Second Language, got certified to teach ESL and English.  She taught ESL briefly and then 7th grade English at Robinson Secondary School in Fairfax County for the next eleven years.  Also, it was during this time that Larry served a final four year assignment as the Agricultural Counselor to the U.S. Embassy in Ottawa and retired in 1989, having completed 35 years of Foreign Service duty. Then, as Maxine retired In 1993, they returned to her beloved Manteo, N.C. She always said that she had followed Larry around the world and when they retired, they were headed to Manteo on the OBX. They spent 23 glorious years in Manteo!! When they were well past fourscore years, they moved back to Northern Virginia to live out their final years near their precious children.
Maxine's parents were Richard "Dick" Scarborough and Helen Williams Scarborough. She is survived by her loving sister, Janice Scarborough Tillett, and brother-in-law, Hughes Tillett, Jr., and their children, Julie Tillett Owens and Rex Tillett. She is also survived by her daughters, Elaine Stottlemyer and her husband, Todd; Emilie DiLeonardo and her husband, Steve; and Susan Coleman and her husband, Robert.  Maxine relished time with her eleven grandchildren – Zac & Lexi, Caroline, Wes, Rachel, Allie, Matt, Emma, Jyden, Alec, and Camryn. She also delighted in her great-grandson, Brooks. She is survived by numerous beloved nieces, nephews, and cousins, who were like sisters and brothers to her.
Maxine had a servant's heart. She never met a stranger and truly saw everyone made in God's image. She was a light to so many. In addition to her school teaching career, she taught Sunday School and was an active volunteer in each of the churches around the world where Larry's job took the family. While in Manteo, she was active in Sunday School and Missions at Mt. Olivet UMC, where her impact is still felt, especially Missions changes and accomplishments achieved during her tenure as chairperson during the year 2000 and several thereafter. Given her personality and character inherited from her dear mother and Kinnakeet aunts, she had accepted this position reluctantly as it was her nature to serve as best she could as a member of whatever group she was a part of.  Nevertheless, she was firmly dedicated to her deeply held Christian beliefs and determined to do the best she could. As it was, with the wonderful support of the members of Missions at that time, they were successful in accomplishing a number of important changes. The one time 18-ton sweet potato drop in the church parking lot is probably best remembered by most. However, the most important Mission legacy accomplished during that time may have been the development of a one-page Mission Policy which provided an opportunity for all church members to designate an annual pledge for Missions to be dispersed thereafter by Missions one third locally, one third nationally, and one third internationally.
She loved to entertain family and friends and was a fabulous cook, sometimes putting together dinners that she would call "Chicken a la Machini (her French for Maxine)," which just meant that she had made up the recipe. All baked goods were from scratch; a box mix was unthinkable! Maxine loved flowers of all varieties, a passion that is shared by her daughters and grandchildren. She kept Larry busy digging holes around their Manteo home for more hydrangeas, camellias, and azaleas. Her home was always filled with photographs of her children, and her daughters remember how she would take copious notes about each grandchild's first words, funny comments, and stories. She loved going back and reading over those notes. Her family meant everything to her.
A visitation will be held on Saturday, November 19, from 6-8:00 pm at Twiford Funeral Home in Manteo. A Celebration of Life will be held at 2:00 pm on Sunday, November 20, at Mt. Olivet United Methodist Church with a graveside burial service and a reception to follow. In lieu of flowers, though Maxine dearly loved them, she would love even more that donations made in her memory be to a trust being established in her name at Mt. Olivet UMC, designated for Trustees' use for the maintenance and/or improvement of church facilities.
Twiford Funeral Homes, Outer Banks is assisting the family with arrangements. Condolences and memories may be shared at www.TwifordFH.com.