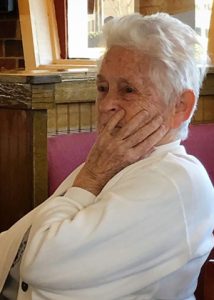 October 8, 1937 – June 6, 2022
WANCHESE — Merle W. Daniels, 84, of Wanchese, NC, died on June 6, 2022, at Chesapeake Regional Medical Center, Chesapeake, VA, of natural causes. Born in Manteo, she was a Wancheser for most of her life and a longtime member of Wanchese Assembly of God.
Merle was the daughter of the late Edward "Ab" and Irlene Burrus Wescott and wife of the late Jimmie Tucker Daniels. She was also preceded in death by her brother, Lloyd M. Wescott; her daughter, Vicki D. Simpson; and her grandson, Jeremy E. Taylor.
Survivors include her two sisters, Babs W. Meekins (RS) and Mary W. Rogers (David), both of Wanchese; her four daughters, Debbie D. Keel (Paul) of Wauchula, FL, Lori D. Ricotta (Gilbert) of Manteo, Lenie D. Taylor (Tom) of Durham, and Lou Ellen D. Quinn (Syd) of Wanchese; and her son-in-law, Rex Simpson (Teri) of Wanchese. Merle was the proud grandmother of fifteen grandchildren, twenty-one great-grandchildren, and one great-grandchild on the way, along with countless loved nieces and nephews.
When Merle and Jim were married, they made their home in Wanchese at the ER Daniels homeplace, on a dirt road with only one or two neighbors.  Merle loved her family and for many years she hosted family picnics in her front yard. One of her grandchildren's favorite memories is when she would "threaten" to "beat the blood right out of them." Merle was well known for her witty wisdom. She was an avid reader and loved history. Merle enjoyed walks with her family and friends. Her front porch rocker became her favorite place waving as folks passed by.
She will be greatly missed.
A private memorial will be held at a later date per her wishes.
In lieu of flowers, memorial donations may be made to the Jim "Catfish" Hunter ALS Foundation or the Manteo Library.
Twiford Funeral Homes, Outer Banks is assisting the family with arrangements. Condolences and memories may be shared at www.TwifordFH.com.