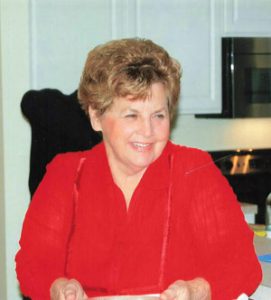 December 29, 1936 – November 5, 2022
MANTEO – Metta Carawan Austin, 85, of Manteo, NC departed this earthly world on Saturday, November 5, 2022, at her home surrounded by family and close friends.
Born in Hyde County on December 29, 1936, she moved to Dare County in the 1960s where she resided until her passing. Metta loved the beach, fishing, and all outdoor activities especially gardening. She often volunteered for church-related functions and sang in the choir for many, many years.
Metta's Sunday dinners were something to be remembered and enjoyed by all who attended. She spent hours, sometimes days, preparing holiday meals. All left her table full and smiling.
Metta and Jerry enjoyed daily rides with their dog Molly. She had a passion for her children and grandchildren and was never shy to voice her opinion or offer guidance. Metta lived and loved fiercely.
Metta is survived by her husband, Jerry Maness Austin; daughters, Lorna Daniels (Allen) and Gina Terry (Paul); son, Greg Sadler; stepchildren, Deanie Midgett (Timmy) and Jay Austin (Renee); grandchildren, Ali Daniels, Taner Daniels (Kim), Jeffrey Midgett, Brandy Morris, Andy Hatzigeorgiou (Ciera), Ashley Hicks (Colin), Conner Sadler, Courtney Sadler (AG), Kirby Sadler, Cassidy Sadler, Kelsey Oglesby, and Brittney Midgett; and a host of great-grandchildren and extended family members.
In addition to her parents, she was preceded in death by her siblings, Jane Barber, Glen Carawan, Bill Carawan, and Edward Carawan.
A memorial service will be held at 2:00 pm on Tuesday, January 24, 2023, at Mt. Olivet United Methodist Church.
To plant a tree in memory of Mrs. Austin or send flowers to the family, please visit www.TwifordFH.com/send-flowers.
Twiford Funeral Homes, Outer Banks is assisting the family with arrangements. Condolences and memories may be shared at www.TwifordFH.com.