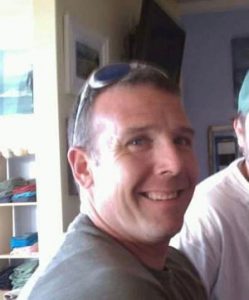 November 25, 1974 – December 29, 2021
KITTY HAWK — Michael Steinkraus, Jr., age 47, of Kitty Hawk, NC, passed away, unexpectedly on December 29, 2021. Michael was born in East Meadow, NY on November 25, 1974.
Surviving family members include his father, Michael Steinkraus, Sr. and his wife Karen Steinkraus, his mother Karen Vallee Fischer and her husband, Thomas Fischer, grandmother Catherine Steinkraus, his sister Melissa Shields and her husband Scott Shields, his beloved niece and nephews Owen, Hudson, Reagan, and Ryder. Surviving aunts and uncles include Bobby and Amy Ledford, Kevin and Janine Vallee, Doreen Steinkraus who he loved like a second mother, and a stepbrother Levi Fischer and his wife Jacqueline and their son Jace. Last, but not least, his beloved dog Shorty remains faithful and playful.
Preceding Michael in death were grandparents Carl and Eileen Steinkraus and Armand and Thelma Vallee, aunts and uncles Mark Steinkraus, Jeannie Graves, and Joe Vallee.
Michael grew up in the Mastic Beach and Shirley areas of Long Island where he attended William Floyd High School. Upon graduation, he enlisted in the Army where he served as a watercraft engineer. At the time of his death, Michael was employed by Cozy Kitchens in Kitty Hawk.
Michael was known to many of his friends as Mike Steiny, and to his niece and nephews as Uncle Mikey. Uncle Mikey adored Scott and Melissa's family and the kids were a big part of his life. Michael was active in the veteran's group ECHO (Elizabeth City Hero Operation) and the VFW. Michael fought many silent battles, but unfortunately, Type 1 Diabetes could not be overcome. He was a warrior until his short life ended.
A celebration of life will be held after Covid tapers off, with date and place to be announced. At that time, we will raise our glasses one more time to salute Uncle Mikey as he leaves a legacy of respect for those who serve, love of his niece and nephews, and honesty to all those that he encountered.
Twiford Funeral Homes, Outer Banks is assisting the family with arrangements. Condolences and memories may be shared at www.TwifordFH.com.