July 1, 1921 – July 3, 2020
KITTY HAWK —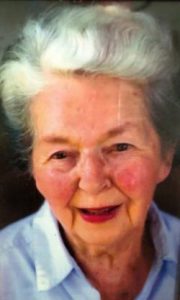 Mildred Florene Perry Foreman, 99, left this life peacefully on Friday, July 3, 2020, her home in Kitty Hawk.
Mrs. Foreman, one of Kitty Hawk's oldest native residents, was a lifelong native of Dare County and had lived in Kitty Hawk and Kill Devil Hills all her life.  She was the second of five children born to Herbert L. and Mary Dowdy Perry of Hay Point Ridge.
She was married to the late William "Bill" Foreman and was the mother of two children. Together, Mildred and Bill Foreman were early pioneers in the family-owned motel businesses that were burgeoning in the early 1950s and 1960s on the Outer Banks of North Carolina.  She was blessed with many friends and remembered fondly for her hospitality both in her home and place of business and loved to drive her car around the community where she grew up remembering fond memories and happy times of her life.
Mildred is survived by her daughter, Amy Desha Foreman Wells of Kitty Hawk; son, William Cobert Foreman of Raleigh; and six grandchildren, Cuyler, Perry, Cobert, Eben, Chris, and David; along with many nieces, nephews, and cousins.
In addition to her parents, she predeceased by her husband, William C. Foreman; two brothers both of Kitty Hawk, Captain Lee Perry and Pernell J. Perry; and her sister, Lessie Perry Mann of Manns Harbor.
A graveside funeral will be held at 2:00 pm on Monday, July 6, 2020, at Austin Cemetery, Kitty Hawk. In lieu of flowers and in honor of Mrs. Mildred/Aunt Mid's love for birds and birdwatching, the family request you scatter a bag of bird seed in her memory.
Twiford Funeral Homes, Outer Banks is assisting the family with arrangements. Condolences and memories may be shared at www.TwifordFH.com.