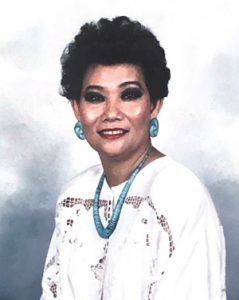 KILL DEVIL HILLS — Minerva T. Shearer, 83, passed away Saturday, August 28, 2021, at the Outer Banks Hospital, North Carolina. She survived Breast Cancer and had been battling Dementia for the past 15 years. Minerva was born on December 22, 1937, in Narvacan, Philippines.
Minerva met and married Robert "Bob" Shearer in the Philippines in 1961. They had three children:  Audrey, born in the Philippines, Bruce and Dianna, both born in Thailand.  Minerva was a stay-at-home mom until being offered a job as a translator for the CIA while the family was stationed in Thailand from 1973-1975, and then the Philippines 1979-1981.
After returning to the US in 1981, she became a Signals Intelligence Officer.  She worked in the Middle East, South America, Africa, Europe, Asia, and even Russia.  She spent many months overseas away from family in those countries.
One of her fondest memories of those times is being able to be "Mom" to the Marine guards at the US Embassy's that she visited and helped with counter-surveillance.  They must have got a kick out of the little 90-pound "bossy" Filipino lady.
Minerva is survived by a daughter, Dianna, her husband George, and their children Ian, Katarina, Nikolas, and Nathan; son, Robert (Bruce), his wife Angie and their children Bob, Jackson, and Grayson; Audrey's husband Mike and their children Mahala and Nikki.  Minerva was preceded in death by her husband Bob; her daughter Audrey; her parents; sisters Verb and Med; and nephew Edgar.
"And you shall know the truth and the truth shall make you free."  (John 8:32) (Unofficial CIA motto)
There are no services planned at this time. Condolences may be expressed at   www.gallopfuneralservices.com. Gallop Funeral Services, Inc. was entrusted with arrangements.