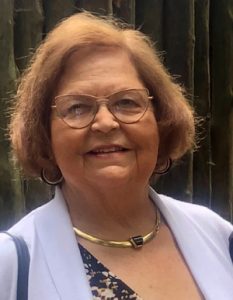 December 15, 1943 – November 7, 2022
MANTEO –  Nancy Coles Basnight Kebschull, 78, of Manteo, NC died Monday, November 7, 2022, at her home.
Born in Elizabeth City, NC on December 15, 1943, she was the daughter of the late Mary Mann Evans Basnight and William Hugh Basnight. In addition to her parents, she was preceded in death by her husband, William David Kebschull. She is survived by her son, Bill Kebschull and wife Caroline of Manteo; and two grandchildren, Madison and Malin Kebschull.
Nancy was raised in Manteo and was a member of Mt. Olivet United Methodist Church. She loved her Dare County roots and experiences. She often spoke of her fond memories of 4-H. After graduating from Manteo High School, she attended UNC-G for a year and then went on to the University of Tennessee where she was a member of Alpha Chi Omega sorority. At Tennessee, she earned a Bachelor of Science Degree in interior design.
An allied member of ASID, Nancy spent her early years working in New Jersey, New York and Western Maryland. She settled in Harford County, Maryland where she worked for most of her career and raised her family.
In recent years, she moved back to Manteo to spend time with her family and friends. She enjoyed boating, fishing, gardening, but most of all her granddaughters.
Throughout her life she was an advocate for education, she loved to travel and valued her family and friends with the utmost importance.
Visitation will be held at Mt. Olivet United Methodist Church at 1:00 pm and the funeral service will follow at 2:00 pm on Thursday, November 10, 2022. A private burial will take place in Manteo Cemetery. The family will receive friends and relatives after the service at the home of Bill and Caroline Kebschull, 130 William and Mary Way. In lieu of flowers, memorial donations may be made to Dare County Boat Builders Foundation, PO Box 1473, Manteo, NC 27954 or Interfaith Community Outreach (Alice Kelly Foundation) PO Box 1663, Kill Devil Hills, NC 27948.
To plant a tree in memory of Nancy or send flowers to the family, please visit www.TwifordFH.com/send-flowers.
Twiford Funeral Homes, Outer Banks is assisting the family with arrangements. Condolences and memories may be shared at www.TwifordFH.com.