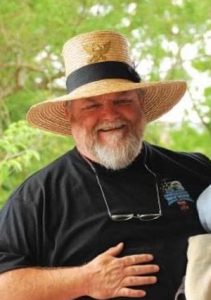 MANTEO — Norwood Clinton Armstrong Jr. (well known as Dickie) was born on August 30, 1953, in Tarboro NC. He lived in Tarboro until 1970 when his family moved to Manns Harbor, NC. Dickie graduated from Manteo High School in 1971.  Soon thereafter, he married in 1975 and the union produced three children, Jeremiah, Amanda and Eliza Jo.
In his early professional life, Dickie was a first-class machinist at the NC DOT Manns Harbor Shipyard for several years.  He then transitioned to the local telephone company, currently known as Century-Link, and served as a cable locator, installer, splicer, and finally a fiber optic technician until he retired.
After official retirement, Dickie continued working- as a fuel jockey and as a night watchman at Oregon Inlet Fishing Center from 2013 to 2017. His parents, Norwood C. Armstrong Sr. (Dick) and Frances C. Armstrong both passed away, mother in 1985 and father in 2009.
Dickie enjoyed being a Civil War reenactor and portrayed both Union and Confederate troops all over the eastern US.  He was an amateur historian who loved to read!  He was passionate about history and loved to honor those who have served this great country.  Dickie competed in Cowboy Action Shooting at the Outer Banks Gun Club.  He made many life-long friends over the years. He had a great love for history, music, good books, genealogy, travel and conversation with friends and strangers alike.
Tragically, his life was taken December 27, 2021, but Dickie is now reunited with all his loved ones in heaven. Left to honor Dickie's name and memory are his sister, Tina O'Neal (husband Kit O'Neal & nephew Taz O'Neal); his three children, son- Jeremiah C. Armstrong (wife Laurie, grandchildren, Emily, Whitney, and Russell); his daughter- M. Amanda Armstrong; and his daughter, Eliza Jo Kitchens (husband Kenneth and grandson Lance). A memorial gathering will be planned in the spring of 2022.
Dickie's family would like to offer special thanks to Hubby Bliven, Charles Minton, and Gaston Midgett for their friendship, care, and assistance over many years.  His family would like to also honor Michael Berry by reminding us, "Greater love hath no man than this, that a man lay down his life for his friends." John 15:13 KJV. Please share condolences to the family and check for service details at www.gallopfuneralservices.com.  Gallop Funeral Services, Inc. was entrusted with arrangements.