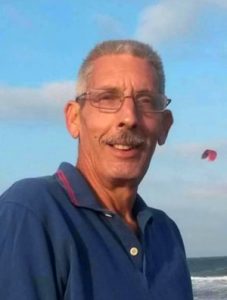 Richard "Big Rick" Holzbauer died August 1, 2020. He was 58 years old. He was born April 1st, 1962 in Riverside, California. He was a navy brat who frequently moved every few years growing up. Though he did not move to Hatteras Island until 1978, he considered it to be his true home. He graduated from Cape Hatteras High School where he met Kim "Rock me" Robke. They were drawn to each, had a similar way of thinking, and shared the same twisted sense of humor. Together, they believed they could take over the world! Rick and Kim built their life together in Buxton, NC.
Later, they married in 1991 and had their son, Thomas Holzbauer. They loved each other and endured many ups and downs but they continued to endure life's many trials and tribulations for over 35 years together.
Rick was a huge Green Bay Packers fan! He wore his Packer's jersey every chance he could. He loved sci-fi, especially Star Wars and Star Trek. But his favorite show of all time was undoubtedly "The Walking Dead". Anyone who knew him knows that Rick possessed both a conspiracy theory and a survivalist mentality that gave him the ultimate storm prepping ability.
Rick never needed much in life. He enjoyed spending days on the beach, fishing, listening to music, and spending time with family and friends. A good day for Rick could be as simple as enjoying some tasty barbecued ribs, reminiscing about old times with friends, or moshing with Thomas at a Mayhem concert. He was a man of simple pleasures who would like to be remembered that way.
Rick is survived by his son, Thomas, brothers James Jr. & Christopher Holzbauer, sister, Regina Barnett, and father, James Holzbauer.
He was preceded in death by this mother, Margret Holzbauer and wife, Kim Robke.