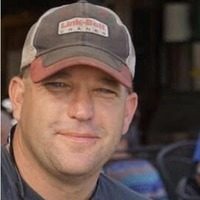 Richard Moncrief Nickel, 43, of Cameron, passed away Monday, March 23, 2020.
A Memorial Service at Resurrection Lutheran Church of Cameron will be held at a later date, as well as a Celebration of Life Service.
Richard was born April 29, 1976, in Orangeburg, and was the son of Richard Scott Nickel and the late Marjorie Brailsford Nickel. He graduated from Calhoun Academy, had an Associate's Degree in Engineering, and was President of Carolina Bridge Company, Inc., where he worked on projects on Hatteras and Ocracoke islands, including the Captain Richard Etheridge Bridge on Pea Island, and the ongoing South Dock basin project in Ocracoke. He was Chairman of the Carolina's AGC Highway Committee and a member of Resurrection Lutheran Church of Cameron.
Survivors include his father, Richard Scott Nickel, of Beaufort; two children, Arleigh Nickel and George Nickel, of Cameron; his brother, Scott McDaniel "Dan" Brailsford Nickel (Amy), of Ridgeville; two nieces, Isabella Nickel and Julianna Nickel, of Ridgeville; an uncle, John "Johnny" Francis Brailsford, Jr. (Janet), of Orangeburg; his aunts, Florence "Florie" Brailsford, of The Oaks, and Elizabeth Brailsford Pierce (Mike), of Ruffin, Leigh Anne Nickel (Charles), of Davie, FL, and Janis Lane Nickel (Danny), of Anderson; his step-grandmother, Barbara Bly Nickel, of Greenville; and two step-aunts, Brenda Bly Baitinger (David), of Coral Gables, and Teresa Bly Garrick (Tommy), of Greer. He was pre-deceased by: his mother, Marjorie Brailsford Nickel; his maternal grandparents, John Francis Brailsford, Sr. and Lillian Marjorie "Ninkie" Brailsford; his uncle, Billy Brailsford; and his paternal grandparents, Richard F. Nickel and Elizabeth Gates Nickel.
In lieu of flowers, the family requests that memorials may be made to: Resurrection Lutheran Church of Cameron, 8160 Old State Road, Cameron, SC 29030.