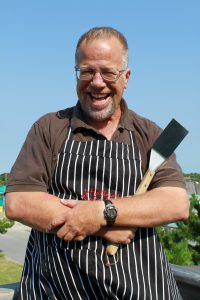 November 21, 1952 – July 29, 2022
Robert Dean "Bob" Barris, a larger-than-life Hatteras Island personality and an icon of the Outer Banks real estate industry, passed away peacefully in his sleep last week at his home on the edge of Buxton's Coastal Reserve maritime forest.
Bob was born in Brooklyn, NY, and raised in Cranford, NJ, just west of New York City. He loved surfing and fishing and moved to Hatteras Island after graduating from Cranford High School in 1970. He graduated from UNC Wilmington in 1977 with a BA in English, but the allure of Hatteras brought him back, where he worked on the Fireball with his friend, Capt. Bill Hogan. Sports fishing charters and successful long-lining for King Mackerel in the winters earned him the reputation as one of the most capable and respected offshore mates in the Hatteras fleet.
In 1980 he headed to ECU and received his Master's Degree in English Creative Writing in 1983, teaching freshman composition as an Associate Professor of English. However, a new opportunity abruptly presented itself to Bob and his bride, Vicky. It was Hatteras Realty with another long-time friend, Stewart Couch.
Bob did a bit of everything, from writing the rental brochure for 25 years to teaching a seasonal, sold-out seafood cooking class for 10 years called "Coastal Carolina Cooking with Bob "The Fish Whisperer" Barris." These shows sold-out in advance where he held court on everything to the best breading for crab cake filler, marinade secrets for the best in flavor, to hilarious social and political commentary with his dry, unfiltered wit.
Still at the top of his game in 2022 after 37 wildly-successful years in real estate sales, Bob mastered tuning his life experiences to foster skill and excellence in everything he attempted, meshing it all seamlessly with ferocious intellect and relentless work ethic.
Bob Barris was a proverbial force of nature, not content with merely a seat in the vehicle of life – he wanted to drive. He was sometimes complex and delightfully eccentric, with confidence to be direct when necessary without coming across as insensitive. He smelled a lot of roses along the way, with a big heart for children of all ages, animals large and small, and the international J1 and H2B workforce on the island. He saw in himself, their pursuits and dreams.
Bob mentored dozens of real estate agents, industry co-workers, and hospitality/food and beverage professionals up until his unexpected passing. He had God-given gifts in relationship-building and an admirable, enviable talent to use humor effectively.
To watch him interact with family, clients, peers, and people from all walks of life highlighted the fact that relationships are squarely built on service and trust and that adherence to the Golden Rule is indeed a rule, not a suggestion.
He is survived by his loving wife of nearly 40 years, Vicky Grist Barris; his son, A. Cash Barris; his brother, Mark, all of Buxton; and his brother, David Barris, of Cranford NJ. He was predeceased by his father, Albert J. "Al" Barris, and his mother, Elvira "Ellie" E. Barris, both children of Lithuanian immigrants.
A Celebration of Life will be held on Nov 20, 2022, at 1:00 pm at Our Lady of the Seas Catholic Church in Buxton.
Rest easy Bob, and muchas gracias, amigo – life at Hatteras will be subdued without you in it.