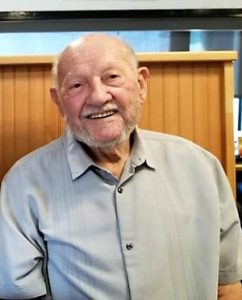 December 12, 1934 – February 9, 2023
HATTERAS — Robert Hal Gray, 88, of Hatteras, NC, went peacefully to heaven at Sentara Leigh Hospital on the morning of February 9, 2023.
Hal was the son of Damon Meekins Gray, Sr., and Rosa Dean Gaskins Gray. In addition to his parents, he was preceded in death by his brothers, Damon Gray, Jr., and Ray Gray, Sr.; his son, Robert "Robbie" Hal Gray, Jr.; his wife, Mary Lou Barnett Gray; and two sons-in-law, George Easley, and Bobby Schwartz.
Hal was born and raised in 'Hattress' Village, where he lived his entire life. He was loved and respected by all who knew him. Known as Mr. Hal by many, he always had a smile, a kind word, and never met a stranger. He was a talented woodcarver of birds. An art he learned from his father. Most of all, he was the best father, husband, grandfather, and uncle anyone could ever have. He will be sadly missed.
Hal was a Dare County Deputy and ambulance driver. His patrol car was an LTD station wagon with a stretcher in the back. He had the great honor of delivering a baby en route to the hospital. Hal was the co-owner of the Atlantic View Hotel & Restaurant. He was a founding member of the Hatteras Volunteer Fire Department and was also on the founding board of directors for the Hatteras Medical Center. Hal retired from the North Carolina Department of Transportation – Ferry Division in Homeland Security.
He is survived by his daughters, Margie Easley of Hatteras and Melodi Schwartz of Buxton; the mother of his three children, Winona Burroughs; step-sons, Randy Barnett (wife Beth and family) and Tim Barnett (wife Rennei and family); seven grandchildren, Carrie Barley (Waylon), Hali Easley, Robbie Easley, Maggie Williams (Ben), Justin Davis, Stefan Schwartz and Lacey Schwartz; and five great-grandchildren, Laya Barley, Banx and Adina Nelson, and Keith and Lauren Davis. Also surviving are many nieces, nephews, and cousins.
A celebration of life will be held at 2:00 pm on Monday, February 20, 2023, at the Hatteras United Methodist Church.
In lieu of flowers, memorial donations may be made to Hatteras Island Meals, Inc., Hatteras Volunteer Fire Department or the Hatteras United Methodist Church.
Twiford Funeral Homes, Outer Banks is assisting the family with arrangements. Condolences and memories may be shared at www.TwifordFH.com.