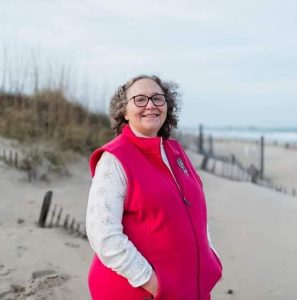 August 31, 1952 – November 8, 2023
MANTEO — Ronna Lee Frank (Palmer), 71, born August 31, 1952, in Fort Monmouth, Monmouth Co., NJ, and a 40-plus year resident of the OBX, has gone to be with our Lord on Wednesday, November 8, 2023.
Ronna was preceded in death by her parents, Charlotte Palmer, and Americus "Bud" Palmer, and her two brothers, Tommy Palmer, and David Palmer, all of NJ.
Ronna's talents were many, as she was an accomplished mother, seamstress, and customer service representative. Active volunteer for the Children's Miracle Network, participant for St. Jude's Children's Hospital and American Cancer Society. She enjoyed reading her bible, cooking, doing puzzles, chatting with her family, and playing with her grandchildren. Her favorite wrestlers were The Undertaker and Rey Mysterio. Ronna's favorite color was purple.
Ronna is survived by her three sisters, Suzanne "Sue" Montgomery, Patricia "Patty" Palmer, and Dawn Palmer, all of NJ; and six children, Vicky Hobin (Mark) of Jacksonville, NC, Marguerita "Margie" Oram (John) of Kill Devil Hills, NC, Anthony "Tony" Soto of Coinjock, NC, Lori Smith (Stephen) of Kill Devil Hills, NC, Cari Frank of Clayton, NC, and Chris Frank of Goldsboro, NC. Ronna also leaves behind seven grandchildren and four great-grandchildren.
The family will receive friends on Monday, November 13, 2023, at 12:00 pm at Twiford Colony Chapel (500 Budleigh St, Manteo, NC 27954). A memorial service will immediately follow beginning at 1:00 pm.
Food offerings will be accepted for Ronna's Celebration of Life at 149 Ocean Boulevard, Southern Shores, NC 27949 from 4:00 pm – 7:00 pm.
Proverbs 31:31 – "Honor her for all that her hands have done, and let her works bring her praise at the city gates."
Twiford Funeral Homes, Outer Banks is assisting the family with arrangements. Condolences and memories may be shared at www.TwifordFH.com.