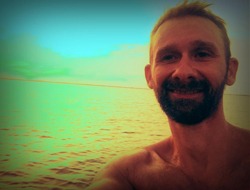 MANTEO — Shane Michael Miles, 48, passed away at his home on March 3, 2020 in Manteo, North Carolina. Shane was born on March 10, 1971 in Middletown, New York. As a well-admired member of the community, Shane leaves behind his son, Ethan Miles, daughter, Shyanne Gomez, and son-in-law Joseph Gomez, his partner in life and love Heather Gardiner, his mother Kathleen Wronka and her partner Greg Casillas, his father Louis Miles, his three siblings Imogene Russell, Maggie Miles, and Jason Wronka, as well as a large tribe of other family members near and far.
As a child, family describes Shane as adorable and fun to be with. He grew up close with his cousins and other friends. He kept everyone on their toes. Even at a young age, he possessed a zest for life and the magnetism that many who knew him later in life still saw.
Shane was a young parent when he moved to the Outer Banks to begin life with his family. During this time in his life, he cultivated his love for food and the culinary arts in the kitchens of local restaurants and eventually into corporate sales for these venues. As self-made success bloomed, he planted his roots and made his family bigger. Shane lived life to the fullest celebrating with his family at backyard pool parties and family vacations.
Many know Shane as a runner, as this became a great passion for him in the last decade of his life. Through his many accomplishments of ultra-marathons, involvement in the Outer Banks Running Club, and his ownership of a local runner's shop, Roanoke Island Running Company, for several years. Shane has inspired and encouraged many to go after their passions whether through running or other paths. Shane battled and won his first fight against cancer in 2009. His desire to help others fighting the fight sparked a community involvement that would never waver until his last days.
In January 2019, Shane took his diagnosis of Stage IV Colon Cancer with strength and courage. He battled this year vigorously with the support of his loving Heather by his side as well as many friends and family. He never wavered and consistently pushed himself, most notably running the Marine Corps Marathon in October 2019. As the battle ramped up Shane saw his community of family and friends rally behind him. Even in the end Shane continued his fight with dignity, this is not a battle lost but another race finished for Shane Miles as he now Runs In Paradise.
A celebration of life will be held from 4:00 pm-6:00 pm, on Sunday, March 8, 2020 at Waveriders, 3022 S. Croatan Hwy, Nags Head, NC 27959. Please join us for a party in Shane's honor, as close family and friends share words and memories.
Twiford Funeral Homes, Outer Banks is assisting the family with arrangements. Condolences and memories can be shared at www.TwifordFH.com.