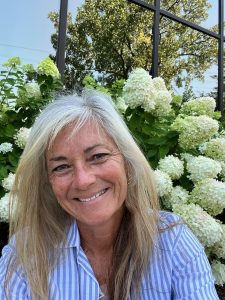 March 2, 1967 – September 16, 2023
KILL DEVIL HILLS — Sharon Griffith Dunstan of Kill Devil Hills, NC, beloved wife, mother, grandmother, sister, and friend, passed away on September 16, 2023, at age 56. Born March 2, 1967 in Franklin, VA.
Sharon loved every minute she shared with her family. She was at peace knowing that her husband and children worship our Heavenly Father, have faith, and have accepted Jesus Christ as their Savior. Her true passion lay in her faith, as she had a deep desire to share the Gospel with others. She found solace and joy in her relationship with God, which she carried through every aspect of her life.
Nature held a special place in Sharon's heart, and she found great joy in spending time outdoors; whether it be tending her garden, taking long walks, or exploring hiking trails. Cooking was another of her many talents, and she delighted in preparing meals that brought people together.
Sharon cherished every minute she spent with her husband, children, granddaughter, sister, all her extended family, and her multitude of friends. She dedicated time helping others, particularly children, as evident in the various roles within the community. Her commitment to serving others left a lasting impact on those whose lives she touched.
She was a devoted attendee and partner of Nags Head Church. The church was a source of spiritual nourishment, worship, and fellowship for Sharon; where she found support and strength.
Left to cherish Sharon's memory are her loving husband, John Forrest Dunstan; daughter, Sydney Dunstan Vargas (Christian); son, John Forrest Dunstan, Jr.; granddaughter, Dawson Rose Vargas; sister, Wanda Waters (Lenny); brother, Dennis Griffith (Pam); and a large extended family.
She was preceded in death by her parents, Virginia Burgess and Henry Griffith.
A celebration of Sharon's life will be held at 3:00 pm on Wednesday, September 27, 2023, at Nags Head Church. A private family burial service will take place in Manteo Cemetery.
In lieu of flowers, memorial donations can be made to Nags Head Church by visiting nagsheadchurch.org. These contributions will honor Sharon's memory, but most importantly, they will be used to share the Gospel.
Sharon Griffith Dunstan will forever be remembered for her faith, her love for her family, and her unwavering dedication to helping others. Her kindness and radiant spirit will be deeply missed by all who had the privilege of knowing her. Now, she has eternal peace with the loving embrace of our Heavenly Father.
Twiford Funeral Homes, Outer Banks is assisting the family with arrangements. Condolences and memories may be shared at www.TwifordFH.com.