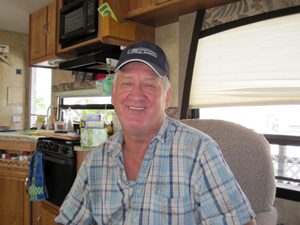 October 31, 1949 – February 16, 2023
"Stoney" Merritt Calvin Stone passed away unexpectedly on February 16th while doing one of his favorite things—traveling and spending time with his beautiful wife and best friend, Carol, and his beloved dogs, Billy and Charlie. Stoney is survived by his wife Carol Abbey Stone, his sons, Danny and David. his grandson, Christopher, his daughter-in-law, Michele, his brother-in-law, Jerry, and his siblings, Glenda, Sandra, and Robert. He was predeceased by his brother, Larry, and his brother-in-law, Paul. He leaves behind many nieces and nephews, and was especially close to Kathy and Bill Maylor.
Stoney lived and worked in Richmond, Virginia as a journeyman millwright. He was from Corning, NY, and most recently he'd retired to Colington Harbour. He loved animals, especially dogs, and he cared about sea turtles, bears, and seals; he volunteered locally for N. E. S. T. and spent many days bear-watching at Alligator River. He truly enjoyed and thrived during retirement, making the most of his time, helping neighbors in need and anyone who asked. He was always up for an adventure. He will be sorely missed by family and friends. In lieu of flowers, please make a donation to N. E. S. T. in his honor. The family will host a celebration of Stoney's life on Sunday, April 23rd, 4 pm, at 56 Trinitie Trail in Southern Shores.