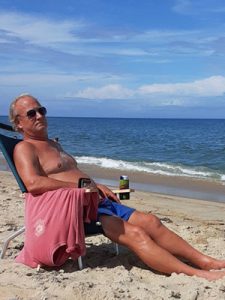 Thomas Andrew Stephenson passed away unexpectedly at the age of 60 on Tuesday, November 15, 2022 at his home in Nags Head, NC. Tom was born in Bryn Mawr, PA on March 5, 1962 to David and Margaret (Attenweiler) Stephenson.
For over 28 years prior to retiring to his dream home on the Outer Banks of North Carolina, Tom resided in Pottstown, PA. He worked for 21 years at Automated Financial Systems in Exton, PA where he forged many close friendships. Tom loved the Philadelphia Eagles, his dog, Maizee, his grand-dog, Rhia, and most of all spending time with his wife of 32 years, Donna, his three children and his many friends. He was a kind, sensitive, loyal and loving father, husband and friend.
He is survived by his wife, Donna (Zimmerman) Stephenson; daughter, Lauren A. Stephenson (Paul); son, Zachary T. Stephenson (Erika); son, Chad S. Stephenson (Liz); brother, David C. Stephenson and many other relatives and close friends. He was preceded in death by his daughter, Ryane Stephenson, his parents, and his sister, Ann Stephenson.
Family and friends are invited to celebrate Tom's life on December 16, 2022 starting at 4:30 pm at the VFW in Royersford, PA. In lieu of flowers, contributions may be made in Tom's memory to the Alzheimer's Association Delaware Valley Chapter, 399 Market St., Suite 102, Philadelphia, PA 19106 or any other charity of choice. Condolences may be shared at gallopfuneralservices.com. Gallop Funeral Services, Inc. was entrusted with arrangements.