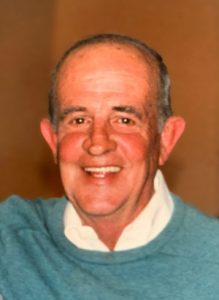 Thomas Gerald (Jerry) Sheffield, Jr. passed away peacefully on April 9th, 2022, at the age of 84 in Mathews, Virginia, not far from his beloved hometown of Norfolk.  An avid sports fan his entire life, he was once invited to try out for the Cleveland Indians, Jerry's parting can easily be summed up as the end of an ERA.  His earned run average over the course of his life was as you would expect, and par for the course.  Jerry loved the Red Sox, and Duke basketball unconditionally.
Jerry was born in Norfolk, Virginia on August 18, 1937, to Thomas Gerald and Emily Miller Sheffield. Most of Jerry's childhood was spent in the house on Surrey Crescent in downtown Norfolk, where he played baseball for Maury High School and enjoyed cohorting with his many dear childhood friends.
After moving to Williamsburg to raise his family in the 1970s, he became a huge fan of William and Mary sports and relished his role as a basketball stat keeper for Tribe basketball.  When he wasn't keeping W&M stats courtside, Jerry was on the golf course whenever he could be.
Upon retirement, Jerry moved to Nags Head, NC to help care for his parents, and then after their passing, moved to Richmond, Virginia to be closer to his daughters and grandchildren.
Jerry is survived by his sister, Susie Sheffield Rixey, three daughters; Emily Paige Sheffield (Doug Thomas), Stacy Sheffield Smyth (Ben Smyth), and Kimberly Sheffield Wohltmann (Rob Wohltmann), four grandchildren; Jillian, Carly, Sydney, and Garrett, his niece, Styron Daniels, and nephew, John Schafer.
A visitation will be held from 10:00 to 11:30 am on Monday, April 18th at H.D. Oliver Funeral home located at 1501 Colonial Avenue, in Norfolk, Virginia, and a graveside service at Cedar Lawn Cemetery in Norfolk at 1:00 pm.  In lieu of flowers, please consider making a donation to the St. Jude Children's Research Hospital, Jerry's favorite charity.