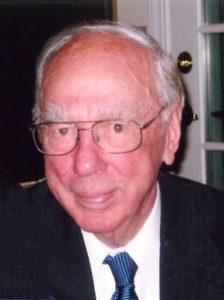 June 26, 1922 – February 8, 2021
KILL DEVIL HILLS — Thomas Peter Daley, 98, of Kill Devil Hills, NC, formerly of Chesapeake, VA, died peacefully on Monday, February 8, 2021.
Born in La Porte, IN, on June 26, 1922, Tom was the son of the late Elizabeth Scott Daley and Dr. Edward Henry Daley.
A veteran of World War II, Tom served his country honorably in the United States Coast Guard.
He graduated from Purdue University, spending his career as a General Manager for Bernuth Lembcke Co., an international shipping and petroleum products conglomerate.
As a private pilot, Tom was a member of AOPA, the Aircraft Owners and Pilots Association. He was also an active member of the Knights of Columbus, the American Legion, and a parishioner of Holy Redeemer By-the-Sea Catholic Parish.
Of all his accomplishments, none were more important to Tom than his tireless commitment to and love for his family.
In addition to his parents, he was preceded in death by his wife, Perrine Mitchell Daley; daughter, Eva Marie Daley Dewey; and grandson, Quentin Thomas Alcorn.
Tom is survived by his daughter, Marica Daley Alcorn (Peter) of Richmond, VA; two sons, Thomas P. Daley, Jr. of Chesapeake, VA and John E. Daley of Kill Devil Hills, NC; and two grandchildren, Christian B. Alcorn and Elizabeth N. Dewey.
A Mass of the Resurrection will be celebrated at 11:00 am on Monday, February 15, 2021, at Holy Redeemer By-the-Sea Catholic Church by Father John Hanley, osfs. A graveside committal service will be held at Travis Park Cemetery in Saluda, SC.
Twiford Funeral Homes, Outer Banks is assisting the family with arrangements. Condolences and memories may be shared at www.TwifordFH.com.