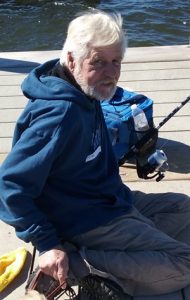 June 4, 1956 – May 4, 2021
KITTY HAWK — Timothy Jay Riffe, 64, of Kitty Hawk, NC died Tuesday, May 4, 2021.
Born in Grundy, VA on June 4, 1956, he was the son of the late Hester West Riffe and James Clinton Riffe.
Tim is survived by his wife, Betty Lou Riffe; three children, Aaron Luke, Joshua Dale, and Sheena Marie Riffe; four grandchildren, Charlotte, Cameron, Landon, and Liam; and his siblings, Gina Riffe, Patricia Lewis, Terry Riffe, Tommy Riffe, and Gary Riffe.
A celebration of life will be held at a later date.
Twiford Funeral Homes, Outer Banks is assisting the family with arrangements. Condolences and memories may be shared at www.TwifordFH.com.