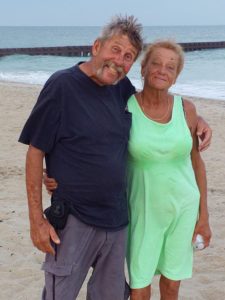 August 3, 1961 – November 7, 2023
FRISCO — Tina Marie Varnum Meekins, age 62, of Frisco, NC, passed away on November 7, 2023. She was born on August 3, 1961, in Southport, NC.
Tina retired from the North Carolina Department of Transportation – Ferry Division after years of dedicated service. Her hard work and commitment to her profession left a lasting impact on her colleagues and the community.
Tina was raised and baptized in the First Apostolic Church of Jesus Christ in Southport, NC. She found solace and strength in her faith, which guided her throughout her life.
Tina will be deeply missed by her loving husband, Donald Freeman Meekins, who stood by her side through thick and thin. She leaves behind cherished memories for her son, TimothyBryan Meekins and wife Erin Lee Meekins; and her daughters, Jessica Nicole Meekins, Daylynn Marie Meekins, and Kaytelynn Mary Bell Meekins.
Her grandchildren, Donald Kadyn Shepherd, Lexus Marie Meekins, Freeman Gunnar Meekins, and Sadie Estelle Meekins, brought immense joy to her life. Tina adored her family and treasured every moment spent with them.
She is also survived by her sisters, Susan Shipman and Pam Jackson, and the Mugford Girls, who shared a special bond with Tina.
A memorial service to celebrate Tina's life will be held on Tuesday, November 21, 2023, at 1:00 pm at Heritage of Faith Family Church in Frisco. During this time, we will honor hermemory and find comfort in the love and support that surrounds us.
Tina Marie Varnum Meekins touched the lives of many, leaving behind a legacy of love and devotion. Her gentle spirit, unwavering faith, and dedication to her family will forever becherished. May she rest in eternal peace.
In lieu of flowers the family is accepting donations towards the Meekins Family GoFundMe,
www.gofundme.com/f/tina-meekins.
Twiford Funeral Homes, Outer Banks is assisting the family with arrangements. Condolences and memories may be shared at www.TwifordFH.com.