July 19, 1938 – October 3, 2019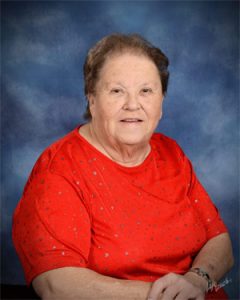 WANCHESE – Trudy Cecelia Quidley Payne, 81, of Wanchese NC, passed away peacefully in her sleep on Thursday, October 3, 2019.  In the company of her family, and in the home she had lived for over sixty years, she made her final trip to heaven.
A native of Dare County, she was born July 19, 1938, to the late Geraldine Daniels and Cornelius Augustus Sutton Quidley.
A faithful member of Wanchese Assembly of God, "Momma Trudy" served her church family in many ways, but her heart's passion was her three decades of service as the coordinator for the Missionettes, an Assembly of God discipleship program geared towards young girls. Over the years she has mentored hundreds of young ladies and has celebrated with fifty-nine of them as they were crowned "Honor Stars".
The legacy she leaves behind is more than just her ministry to the church. Her true legacy is seen in the lives of her beloved family. To them, "Gammie" was their spiritual example that covered the family with tear-soaked prayers on a daily basis. Her children, grandchildren and great-grandchildren described her as truly self-sacrificing, loving, graceful, godly, nice and kind. Statements like, "She was an angel" and "Gammie loved me" describe her perfectly.
In addition to her parents, Trudy was preceded in death by her husband, Franklin Corbet Payne; son, Rudy Lee Payne; sister, Judy Quidley Westphal; and brother, Barry Wayne Quidley.
Trudy is survived by three daughters, Ida "Gerry" Payne Heath and her husband Tim of Wanchese, Camilla Payne Piercy of Wanchese, and April Payne LaCount and her husband John of Manteo; nine grandchildren, Daniel Heath and his wife Daphnie, Deborah Heath, April Michelle Pope, Adam Pope, Stephen Piercy, Joshua LaCount, Jacqueline LaCount Smithwick and her husband Hunter, Jessika LaCount, and Jillian LaCount; and nine great-grandchildren: Tabitha, Elizabeth, Nathaniel, Elijah, Felicity, Harmony, Melody, Judah, and Aslan. Also, surviving are two sisters: Pamela Quidley Ells-Johnson and Esther Dellinger both of Chesapeake, VA; and special niece and nephews, Warren, Hannah, and Logan Westphal and Corey Quidley.
A celebration of life will be held at 2:00 pm on Monday, October 7, 2019, at Wanchese Assembly of God with Rev. John LaCount and Rev. Kenny Midgett officiating. Private burial will take place at Tillett cemetery. The family will receive friends and relatives for a viewing and visitation on Sunday evening from 5:00 pm until 7:00 pm at Twiford Colony Chapel.
Twiford Funeral Home, Manteo is assisting the family with arrangements. Condolences and memories can be shared at www.TwifordFH.com.