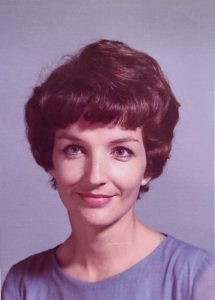 Victoria Nadine Caldwell, 88, of Fancy Gap, VA, passed away Tuesday, September 12, 2023, at her home. She was born in Southport, NC, to the late Norley Franklin Britt and Ora Leigh (Holden) Britt Hylton. In addition to her parents, she was also preceded in death by her siblings, Norley Franklin Britt, Jr., Elaine Godwin, Dorcas Britt, Edsel Britt, and adopted sister, Juanita Kepley.
Nadine was an adored wife and mother, dear sister, beloved friend, and teacher. As high-school and college sweethearts, Nadine and Mark married on February 19, 1954. After she graduated from Pineland Junior College, Nadine and Mark lived in Fairbanks, Alaska, where Mark was stationed, and the first two of their six children were born. After Mark's military service ended, they lived in West Virginia, North Carolina, Virginia, and Ohio, having four more children and both becoming teachers. Nadine was a devoted mother and caregiver, a lifelong Christian, and an active member in her church and church Choirs wherever they lived.
Nadine attended Pineland College, Central State University, and Wright State University, earning her Master's degree in Education and teaching in Virginia, Ohio, and North Carolina before retiring.
Nadine taught Language Arts at Cape Hatteras School for more than twenty years. An accomplished musician, vocalist, and pianist trained in Classical music, she was a member of the Choirs of Hatteras, Little Grove, and Buxton United Methodist Churches and spent countless hours directing, singing, or playing piano or organ in each. In Nadine's final years, she was a member of the Fancy Gap United Methodist Church and an active member of its choir.
She was an avid reader, a fan of mystery and history shows, and loved her music, especially classical and JS Bach, gardening, and flowers. Nadine was a lifelong learner and interested in archeology, history, natural sciences, and astronomy. She frequently had a jigsaw puzzle going with a basket of crochet projects she was working on near her. She loved her family nearly as much as her Lord, and always enjoyed having them around her and took great joy in her grandchildren and great-grandchildren.
She is survived by her husband, Richard Mark Caldwell of the home; children, Vikki Caldwell, Joe Caldwell (Suzanne), Gail Austin (Bruce), John Caldwell (Cheryl), Jay Caldwell (Shawn) and James Caldwell (Licia); sister, Guinivere Hollingsworth; grandchildren, Thad Midgett, Aaron Midgett, Timothy Midgett, Thomas Midgett (Kristin), Victoria Dunn (Shaun), Phillip Austin (Kelley), Matthew Austin, Joey Austin (Yessenia), Lauren Caldwell, Adam Caldwell, Austin Caldwell (Kala), Sabrina Polk (Joshua), Lisa Carson (John-Thomas), Mary Braswell and Seth Caldwell; great-grandchildren, Taj Midgett, McCoy Midgett, Presley Midgett, Sophie Austin, Silas Austin, Arlo Austin, Adrian Austin, Daniela Austin, Archer Polk, Shiloh Polk, Madison Carson, Avery Carson, Kingston George and Brendan Murrell.
In lieu of flowers, memorials can be made to Mountain Valley Hospice by visiting https://www.mtnvalleyhospice.org/ways-to-give/donate or to a local heart or cancer fund of the donor's choice.