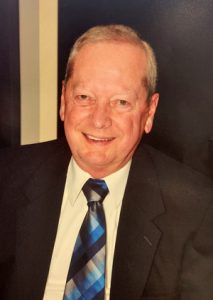 William "Bill" Miles Askew, Jr., 74, of Kitty Hawk, died suddenly Tuesday, February 7, 2023.  He was the son of the late William Miles Askew, Sr., and Eleanor Hetrick Askew.
Bill was born and raised in Elizabeth City, NC, and served in the United States Air Force during the Vietnam War.  Bill enjoyed fishing, was a terrific cook, and was an avid reader.  His almost insatiable desire to read and a mind that seemed endless in its storage made him a fountain of trivia knowledge.  He surprised many with what he knew about the world and the things in it.  He loved to travel throughout the US and was a huge fan of NASCAR.  He was a founding member of the giving duo at Art's Place in Kitty Hawk, which provided many Christmas gifts to local children through the Joy Fund. However, his greatest joy was his children, grandchildren, and great-grandchildren, whom he loved and adored.
Bill is survived by his loving wife, Dolores "Dee" and 7 children Chris (Kathy), Sean (Danette), Brandi, JP (Liz), Patrick, Andy (Melissa), Scott (Kim); 11 grandchildren, Kaitlyn (Bobby), Talon, Sabastian, Devin (Becca), Zane (Kassidy), Nathan, Kyle, Tyler, Jacob, Josh, and AJ; and four great-grandchildren, Carson, Peyton, Riley, and Rhett. He is also survived by 5 siblings, Pat Askew Davis, Mike Askew, Cindy Mansfield (Rob), Barbara Ann Brookhart (Dana), and Miles Askew (Robin); his sister and brother-in-law, Ginny and Bob Lenio, and many loving nieces and nephews.
Family and friends are welcome to a visitation and viewing on Tuesday, February 14th, from 6 pm to 8 pm at Gallop Funeral Chapel in Nags Head.  The funeral service will take place on Wednesday, February 15th at 11 am at the Gallop Funeral Chapel in Nags Head.  Family and friends are invited to the home after the service.
Please share condolences with the family at www.gallopfuneralservices.com. Gallop Funeral Services, Inc. was entrusted with arrangements.