2019 Shaping Up to be Another Record Year for Visitation
Though the summertime visitor season is just starting to heat up, the Cape Hatteras National Seashore (CHNS) is already reporting a banner year for visitation, per recent statistics from the Outer Banks Visitors Bureau.
"Based on May data, Cape Hatteras National Seashore visitation is up 1% compared with the same time period last year [Jan-May 2019 vs. Jan-May 2018], which is impressive considering 2018 was the Seashore's strongest year for visitation in 15 years," stated Mike Barber, Public Affairs Specialist for CHNS. "Cape Hatteras National Seashore had almost 15,000 more visitors in May 2019 than it did in May 2018."
From January 2019 to May 2019, the CHNS saw a total of 750,106 visitors. The total for this same timeframe in 2018 was 740,751.
Year-To-Date Recreational Visits (through May):
2019 – 750,106
2018 – 740,751
2017 – 652,437
2016 – 623,641
2015 – 563,663
2014 – 547,647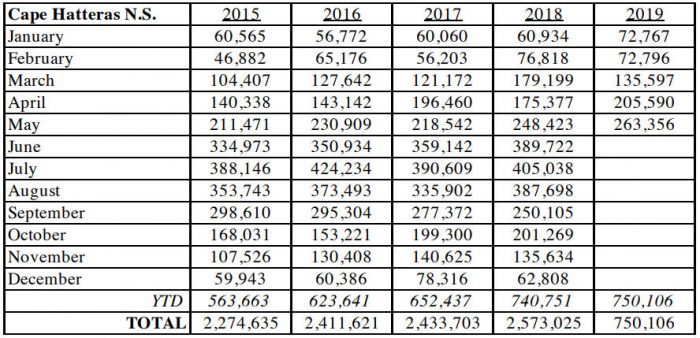 Cape Hatteras National Seashore (Seashore) recorded an overall 5.7 percent increase in total recreational visits in 2018 compared to 2017. Last year's visitation (2,572,297) made it the busiest year at the National Seashore since 2003.
Visitation estimates are collected by counting southbound vehicles just north of the Bonner Bridge and using a multiplier to estimate the total number of passengers heading south. Those estimates are added to the number of passengers going to Ocracoke Island from Cedar Island and Swan Quarter.
Number for June 2019 should be available later in the month of July.