2020 had highest visitation in 17 years, and other National Seashore updates for the week of Mar. 3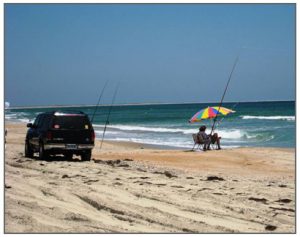 The Cape Hatteras National Seashore (CHNS) announced several recent updates and news items related to recreational activities and seashore conditions on Hatteras and Ocracoke Islands.
News items and events related to the National Seashore for the week of March 3 include the following:
Seashore Updates
January 2021 was the busiest January ever at Cape Hatteras National Seashore (Seashore). January visitation records have been broken three years in a row.
Despite almost two months of pandemic-related restricted access to Dare and Hyde counties, the Seashore still hosted 2,645,477 visits in 2020, the highest number in 17 years, and a 1.49% increase over 2019. Last year was so busy that the Seashore hosted almost 14,000 more visits than in 1999 when the Cape Hatteras Lighthouse was moved. Read more in the Seashore's March 1st news release.
A new web page was recently created to help the public keep track of the upcoming Cape Hatteras Lighthouse restoration project. Once an interior paint removal project is completed, there may be a possibility of a short climbing season at the lighthouse later this summer.
The status of climbing operations at the Bodie Island Lighthouse will be announced in mid-April.
Cape Point and Frisco campgrounds will open for the 2021 camping season on Friday, April 2nd. They will remain open until Monday, November 29, 2021. Reservations and camp site payments can only be made at www.recreation.gov. Oregon Inlet and Ocracoke campgrounds are currently open.