$2,500 Reward Offered for Information on Loggerhead Sea Turtle Incident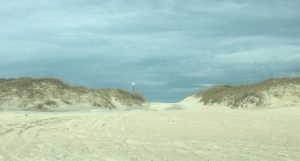 Cape Hatteras National Seashore is still requesting that anyone with information that may help determine the circumstances and events that led to the recent death of a nesting loggerhead sea turtle contact the Dare County Community Crime Line or the National Park Service's Investigative Services Branch (ISB).
At 5:30 a.m. on Monday, May 25, staff at the Cape Hatteras National Seashore found a dead loggerhead sea turtle on the beach approximately 0.10 miles south of Ramp 49 in Frisco.
The nesting loggerhead sea turtle likely died from a vehicle collision during a time where the beach was closed to off-road vehicles.
Observations suggest that the time of the apparent collision was one or more hours prior to 5:30 a.m on Memorial Day. Learn more about the incident at: https://islandfreepress.org/outer-banks-driving-on-the-beach/nesting-loggerhead-sea-turtle-found-dead-near-orv-ramp-49-in-frisco/
The Public is Advised to Report Tips to:
Cape Hatteras National Seashore has been notified that the Cape Hatteras Access Preservation Alliance is offering a $2,500 reward on behalf of the Outer Banks Preservation Association, NC Beach Buggy Association, and Cape Hatteras Anglers Club for information leading to the identification of the person responsible for the sea turtle incident.