After heavy rains, standing water remains an issue at several Hatteras Island beach accesses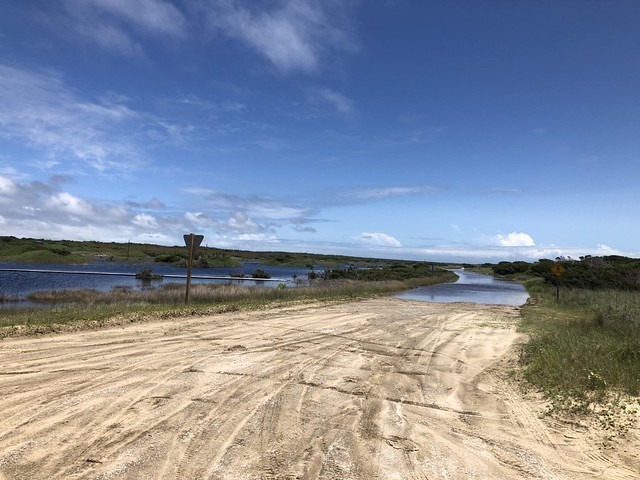 Standing water from days of heavy rainfall has led to challenging driving conditions at several popular beach accesses on Hatteras Island.
As of June 17, the rain gauge at the Billy Mitchell Airport in Frisco indicated that the region's rainfall is approximately 15 inches above normal for mid-June, due to wet weather that inundated the Outer Banks for multiple consecutive days last week.
Per the Cape Hatteras National Seashore's (CHNS) alerts and conditions, there are several beach accesses in Buxton and Hatteras that may be impassable or difficult to navigate, especially for low clearance vehicles, which includes the following:
Lighthouse Road, Buxton: At Lighthouse Road in Buxton, there is 1.5 ft. of standing water on the road. (Warning signs are posted). High clearance vehicles only are recommended south of the parking area on Lighthouse Road.
Inside Road, Buxton: There are several 1.5 ft. deep areas of standing water in between Ramp 44 and South Beach Road, and in between Ramps 48 and 49. High clearance vehicles only are recommended.
Cape Point Campground and South Beach Road (Old Ramp 45): Due to flooded conditions in the campground, South Beach Road is currently only accessible via ORV using the Inside Road. The outer loop of the campground is closed.
Pole Road, Hatteras: Parts of Pole Road are also under standing water. High clearance vehicles only are recommended.
Though standing water remains in some locales, several ramps that were recently raised remain high and dry.
"We have some flooding occurring around the Cape Point Campground, but I'm so pleased to report that Ramps 44 and 49 [In Frisco], areas that have traditionally flooded badly, are high and dry," stated CHNS Superintendent David Hallac in an emailed update. "The reason for this is because we built those ramps up with sand about two years ago. Ramp 49 was raised by about 36 inches and Ramp 44 was raised by 24 inches. Those efforts are continuing to result in drier access to popular beach areas."
Ample sunshine is currently forecast for Monday and Tuesday, however, rains are expected to return on Wednesday and Thursday, which may lead to additional standing water in low-lying areas.
For complete information on beach conditions and alerts, which includes the accessibility or ORV ramps throughout the National Seashore, see https://www.nps.gov/caha/planyourvisit/conditions.htm.