Cape Hatteras Lighthouse Rotating Again After Friday Morning Repair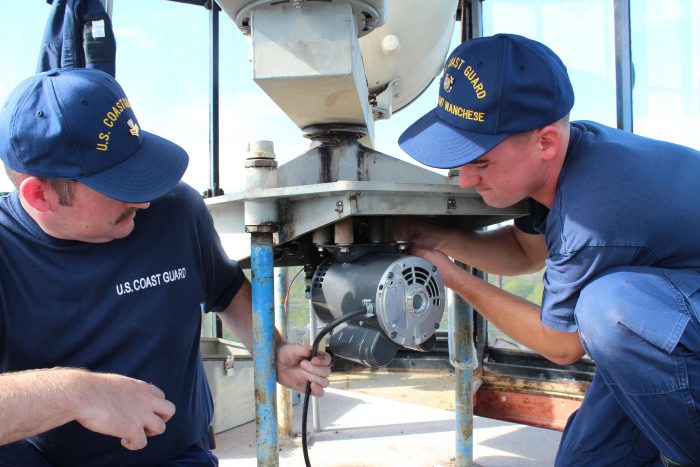 The Cape Hatteras Lighthouse was rotating once again after a Friday morning repair by members of the U.S. Coast Guard.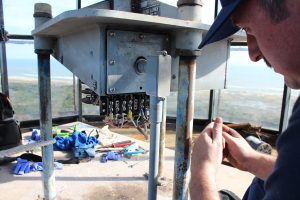 Per a Tuesday update from the Cape Hatteras National Seashore, the beacon at the top of the Cape Hatteras Lighthouse had stopped rotating after a powerful nor'easter impacted the Outer Banks over the weekend.
Though the lighthouse itself is managed by the National Park Service, the structure is maintained by the U.S. Coast Guard (USCG), which is responsible for the repairs.
Per John M. Havel, Cape Hatteras Lighthouse Researcher and Board Member of the Outer Banks Lighthouse Society, USCG Electrician's Mate First Class James Harper and USCG Aids to Navigation Team member Ben Atherholt arrived at the lighthouse at around 10 a.m. on Friday morning to replace the motor that rotates the beam.
Per Havel, who was at the lighthouse site at the time of the repair, Harper had secured a replacement motor the night before, and Atherholt carried the large replacement part up 269 stairs to the lantern room.
Havel reported that the USCG team removed the old motor, switched the drive gears over to the new motor shaft, wired up the new motor with all of the proper and necessary safety features, replaced burned-out fuses, greased up the gears, and fired up the new motor. "It ran and worked flawlessly!" said Havel in an online update. "Beautiful work by a great Coast Guard team!"
The lighthouse has gotten stuck in a stationary position before, and most recently in both late August and May of 2019. In February of 2018, the light was disabled for roughly a month due to damage from a wave of winter storms, and the problem was fixed with a replacement part that was built from scratch.