Celebrating its 37th Year, NCBBA's Operation Beach Respect will be held on June 12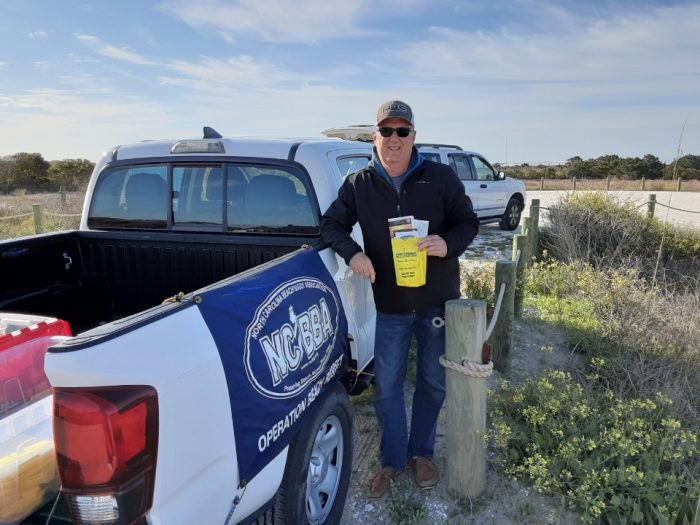 On Saturday, June 12, the North Carolina Beach Buggy Association (NCBBA) will once again launch its Operation Beach Respect program, where NCBBA members station at every beach access ramp from Bodie Island to Hatteras village to hand out information packets and trash bags to beachgoers.
Operation Beach Respect is held in conjunction with the organization's Adopt a Highway program, also occurring on June 12, which targets the stretch of roadway in between ORV Ramps 2 and 4 on Bodie Island. All volunteers are welcome to join in the Adopt a Highway clean-up, while beachgoers on June 12 can expect to be greeted by an NCBBA member with valuable info, and a trash bag to patrol their stretch of sand.
"It's really one of our signature events," said NCBBA Director Tom Brueckner. "We do Operation Beach Respect three times a year, and in conjunction with that, we do the Adopt a Highway [program], which is four times a year."
Operation Beach Respect is celebrating its 37th year in 2021, and the initiative launched in 1984 as a "program designed to help make Cape Hatteras National Seashore the cleanest and the best [beach] in the U.S.A," which was the original motto, and a sentiment that holds true today.
"We have had a lot of repeat volunteers over the years, and on Saturday morning, we have members stand by the entrance to each ramp and give out a packet of information on NCBBA and the National Park Service, and a garbage bag, so we can ask them to police the area where they are, walk the beach a little bit, and pick up whatever litter they find."
The packet includes the National Park Service guide to the local beaches, which offers tips and guidelines on accessing the shoreline with an ORV, as well as bumper stickers from the NCBBA and other info that can come in handy when driving along the Cape Hatteras National Seashore.
Though the majority of Operation Beach Respect clean-ups were canceled in 2020 due to the Coronavirus pandemic, the program has returned for the busy summer season ahead, and NCBBA members, as well as general volunteers, are invited to participate in the two June 12 events.
Any member of the public can help out with the corresponding Adopt a Highway clean-up on Bodie Island, while NCBBA members are welcome to meet and greet with beachgoers during Operation Beach Respect's Saturday morning patrol. For Operation Beach Respect, members can sign up for a Saturday morning shift at one of the island's ORV ramps from 7:30 to 9:30 a.m., or from or 9:30 to 11:30 a.m.
For more information on the corresponding clean-up events, as well as on the NCBBA, visit the organization's website at https://www.ncbba.org/, or their Facebook page at https://www.facebook.com/ncbba.