Frisco Bathhouse reopens after completing renovation project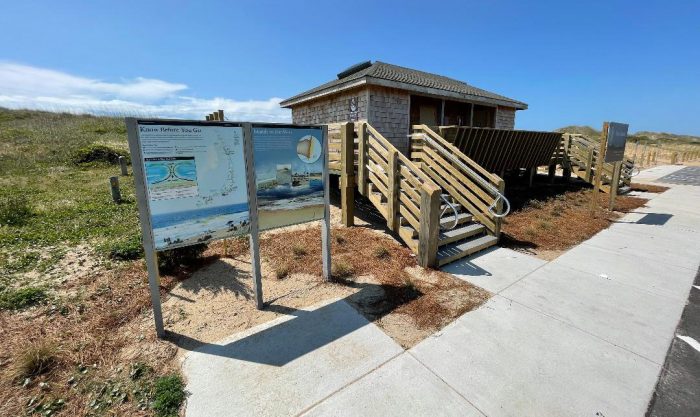 On Wednesday morning, May 18, the Cape Hatteras National Seashore reopened Frisco Beach Access to the public after contractor T.D. McGhee Co. from Wilmington, N.C., finished an extensive renovation project that initially launched in late 2021.
The Frisco Bathhouse is located just south of Frisco village, and is one of the most popular oceanside beach accesses within the National Seashore. The $896,506 project, which began in September 2021, focused on both the parking area and restrooms at the site, and included the following improvements:
Renovated restroom facility, including new toilets, urinals, sinks, and lighting
New exterior decking and shower area flooring, with precast concrete panels
New siding
New outdoor showers
The addition of 36 parking spaces to the original 44-space parking area. (These additional spaces replace the parking area that was lost at the old Frisco Pier site after 2018's Hurricane Florence.)
A new asphalt overlay for the parking area
Lifeguards will serve from 9 a.m. to 5 p.m. at Frisco Beach Access from Saturday, May 28 through Monday, Sept. 5, 2022. Lifeguards will also be available during the same dates and times at Coquina Beach Access, Old Lighthouse Beach Access, and Ocracoke Beach Access.
For more information on the Frisco Bathhouse project, click here.