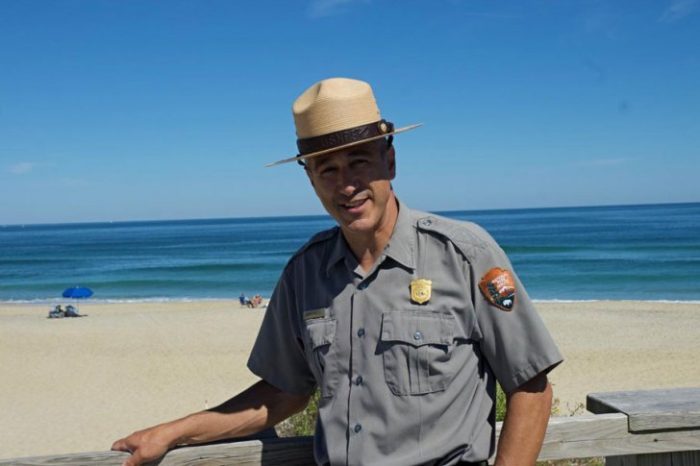 Dave Hallac talks of the treasures and challenges of OBX Parks
It's been almost seven years since Superintendent David Hallac took the reins of the Outer Banks Group (OBG) of National Park Service sites. Consisting of Cape Hatteras National Seashore (CHNS), the Wright Brothers Memorial and Fort Raleigh National Historic Site, the sites have seen near record visitation over the past two years, reflecting the surge in visitation throughout the Outer Banks.
Most of that growth, though has been at CHNS. And for Hallac, who often visited the Outer Banks as a child growing up in northern New Jersey, the reason is apparent.
"You can see why it's so appealing because you have that space," he said. "I think people could come to their rental homes in the Tri-Villages or Avon or Buxton and feel safe because they're surrounded by the same people that they're already living with."
Over the past six years, there have been a number of improvements within the parks. The Wright Brothers Visitors Center had a $5.8 million facelift and new facilities were improved and added along the soundside on Hatteras Island. But the one accomplishment that Hallac focuses on more than anything else has been his outreach to the community.
When he arrived in the winter of 2015, relations between the Park Service and the Outer Banks community were sometimes strained.
"I didn't do anything, innovative, or even unusual," Hallac said. "All I did was reach out to folks. It was as simple as stopping at a tackle shop and maybe drinking a cup of coffee, actually get out on the beaches and talking to visitors."
But it wasn't just the individual users of the parks, or the businesses that relied on visitors. He realized that there were other stakeholders as well, and they, too, needed to be engaged. He worked "with a lot of the organizations, whether it's the Outer Banks Preservation Association or the Southern Environmental Law Center, or just any of the groups that cared about the seashore, to hear from them," he said.
Nonetheless there are communication challenges. Particularly vexing have been ramp closures, with people not understanding that some ramps close and open seasonally or not being aware of protected species around the ramps.
That happened within his own family after he took his youngest son fishing at the Point. As Hallac tells it Spanish mackerel and blues were really running. "We were catching them left and right," he recalled. Later, his son asked about going there again, and when told it was closed, he responded, "What do you mean it's closed?"
About that same time, he got a phone call from Bob Woodard, Chair of the Dare County Board of Commissioners, about the closures.
"'Bob, my life has really become difficult now," he recalled saying. "Not only do I have you calling me complaining about the Point, my own eleven-year-old, he's yelling at me about the Point. So I have some investment in it and understanding what's at stake is really part of the equation."
Hallac also discussed the are challenges facing the OBG — some short-term, others farther in the future.
In the very short-term, Hallac is concerned about what a government shutdown would mean if Congress doesn't act to avert it this week. Visitor centers, restrooms, camping sites and offices would be closed, but there are a number of questions about other park assets. Would the ORV ramps close? At the time of the interview, he did not have answers from his superiors.
On another front, the extraordinary visitation seen over the past two years had put a strain on infrastructure, especially bathrooms and wastewater systems.
"It's a lot different when you have three hundred people coming to the visitor center or to a restaurant every day versus five hundred," he noted.
Looking farther into the future, many of those challenges are related to sea level rise.
"I don't know when this is going to happen, whether it's thirty years, fifty years, one hundred years from now.  But when the sea level actually comes up twenty-four inches from where it is today, and the beaches erode back to that parking lot [at Coquina Beach}, the decisions are easy. You just can't have the things that we have today. Our way of managing the park has to be different."
Hallac also said that in the era of sea rise, the rebuilding calculations could be different after a storm does some damage to a facility.
"Where is it appropriate to make an investment and keep that investment going and where do you say there's enough risk in this facility, this parking lot, this restroom, this building, whatever it is…that it's time to stop?" he said.
Last year CHNS issued about 53,000 ORV permits. That sounds like a lot, and it is more than have ever been issued in the past.
Hallac notes that on the National Seashore, ORVs function more as "a beach parking permit program. People bring their families, anglers, photographers…They're parking their vehicle, and they're enjoying the beach for the day," he said.
That has gotten him thinking about the use of ORVs to insure that as many people as possible continue to have access to Outer Banks beaches.
"During a busy week we can have 100,000 people here [but] we only have about 1,100 parking spaces," he said. "So, what's the alternative, if you have an 80-mile-long beach and people are coming here mostly for the beach? I am seeing our beach driving program through a completely different light over the last few years."