Lighthouse Move Celebration Will Be Live-streamed; Additional Details Announced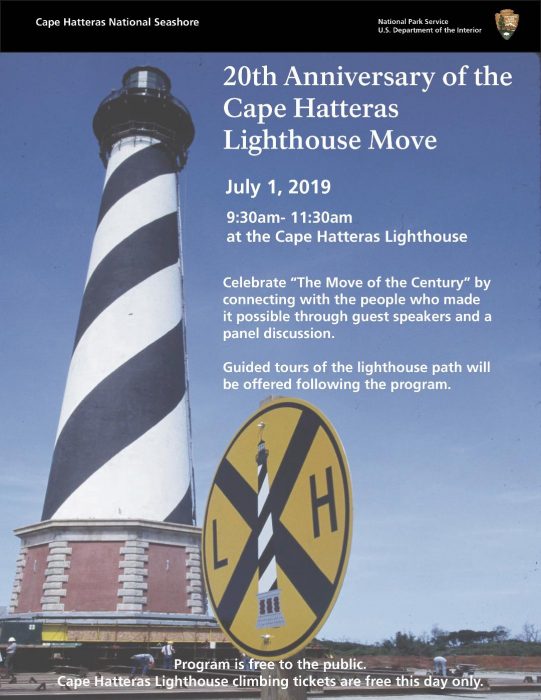 The Cape Hatteras National Seashore (CHNS) recently announced the details for the upcoming 20th Anniversary of the Cape Hatteras Lighthouse Move Celebration on July 1, which will also be live-streamed for off-island lighthouse fans at Outer Banks Forever's Facebook page.
At 9:30 a.m., Bett Padgett, (past president of the Outer Banks Lighthouse Society), will kick off the 20th Anniversary of the Cape Hatteras Lighthouse Move Celebration event in her role as Mistress of Ceremonies.
The first portion of the event will feature a series of speakers on the historic move.
Speakers Include:
David Hallac, Superintendent, National Parks of Eastern North Carolina
Scott Babinowich, Chief of Interpretation, Cape Hatteras NS/Fort Raleigh NHS/Wright Brothers NMEM
Bob Woodard, Chair, Dare County Board of Commissioners
Dr. Stanley Riggs, Distinguished Research Professor of Geology, East Carolina University
Bob Woody, NPS Public Information Officer during the move
Terry Ann Jennette Ponton, Granddaughter of Unaka Jennette, last keeper of the lighthouse
Dr. Robert Young, Director, Program for the Study of Developed Shorelines, Western Carolina University
Danny Couch, Commissioner, Dare County Board of Commissioners, Hatteras Island Historian
Following the speaker portion of the event, a panelist question and answer session will be moderated by Aida Havel, Outer Banks Lighthouse Society board member.
Panelists Include:
Mike Booher, official photographer for the move
Joe Jakubik, Project Manager, International Chimney Corporation
Jerry Matyiko, Principal, Expert House Movers
Reid Thomas, Restoration Specialist, NC State Historic Preservation Office
Danny Couch
Dr. Stanley Riggs
Bob Woody
Between the speaker section and the panelist discussion, Bett Padgett will perform her song "If I Were A Lighthouse." After Superintendent Hallac provides closing comments, Mojo Collins will also perform his song, "Hope of Diamond Shoals."
Additional Events and Activities During the Event Include the Following:
Lighthouse climbs are free as part of the anniversary celebration of the lighthouse move and to encourage people to experience the view from the top of the lighthouse where the move path, old site, and shoreline changes can be seen firsthand. Climbing hours are 9:00 a.m. to 4:30 p.m.
Join a ranger at the old lighthouse site at 2:30 p.m. to hear stories of the move while walking the 2,900-foot move path between the old and new sites.
Artifacts from the move, along with posters describing the details of the move, are on display in the Double Keepers' Quarters.
Outer Banks Lighthouse Society, Outer Banks Forever, NOAA's Monitor National Marine Sanctuary, and the Graveyard of the Atlantic Museum will have informational tables near the Double Keepers' Quarters.
Dare County's Current TV will film the entire event and is supporting the event through the use of its sound equipment.