ORV Corridor established near Cape Point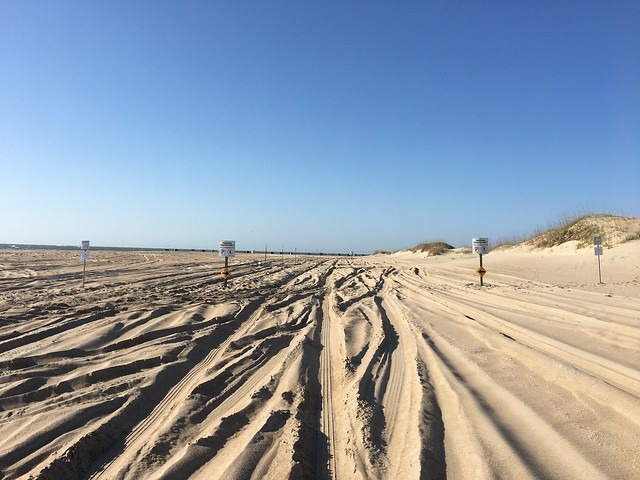 An off-road (ORV) vehicle corridor has been established near Cape Point on Friday morning, April 15, due to American oystercatcher breeding activity, per a recent beach access update from the Cape Hatteras National Seashore (CHNS).
"The same pair of [oystercatchers] that have used the Cape Point area for the last six years have laid a nest, which is why we implemented an off-road vehicle corridor," said Michael Barber, Public Affairs Specialist for CHNS. "This is allowing passage of off-road vehicles to Cape Point."
"We will continue to monitor this nest and make adjustments to the area as needed," stated Barber in an emailed update. "Due to the decreased size of the Cape Point area, it is likely that the southern tip of Cape Point will close in 24-30 days when the nest hatches."
The corridor begins at 0.17 miles south of Ramp 44 and leads vehicles directly to the Point, which remains open.
Access to the west of Bypass Road for roughly 0.42 miles is available for pedestrians who want to walk down the road, and the distance from the Bypass Road entrance to the open beach is around 0.20 miles. A portion of South Beach is also open after a short walk from the parking area at the southern end of South Beach Road.
When the buffers for breeding/nesting activity were modified in 2015, the new rules included an ability to place a driving corridor in front of the nesting areas, so that vehicles could pass through and access open areas of shoreline. As such, Cape Point will remain open for as long as possible, using the modified wildlife buffers.
"In back-to-back years, we have used ORV corridors to extend ORV access to Cape Point by approximately a month compared to previous years," stated Barber. "Prior to the implementation of ORV corridors…, Cape Point regularly closed in early April. Without this morning's corridor installation, Cape Point would be closed."
Cape Hatteras National Seashore beach access updates are regularly posted at http://go.nps.gov/beachaccess.
In addition, (and new for 2022), CHNS visitors interested in receiving off-road vehicle updates can now sign up for ORV-specific text alerts by texting CAHAORV to 333111.